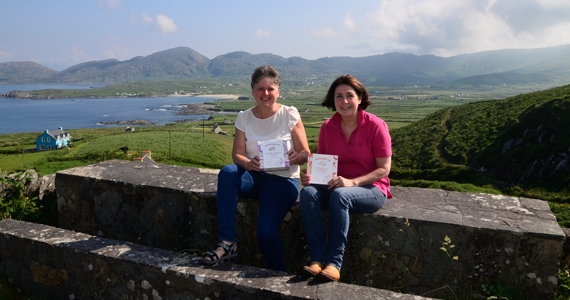 Goodness Me filled pastries are tasty and hearty parcels filled with delicious and healthy fillings.
Cornish miners came to Beara in West Cork 200 years ago to work in the Copper Mines in Allihies. They had found an ingenious way of bringing their dinners to work by wrapping them in a pastry casing, an edible lunch box so to speak.
Karin was inspired to recreate the pasties with a modern twist. The fillings we are starting off with are Cheese and Onion, and Ratatouille and Quinoa. They might have come as a surprise to the miners of the 18oos, (there wasn't much Ratatouille in rural Ireland at that time and Quinoa, seriously?) We are planning of introducing more delicious flavours in the future.
With the help of Karin's friend Jayne, the two have set up Copper Castle Foods Ltd with the aim of introducing these tasty and wholesome pasties to a wider audience.
The ingredients for the fillings are fresh and locally sourced and the pastry is also home made using spelt flour, rapeseed oil and a dash of seaweed to get that extra nutritional benefit.
By pre-cooking the fillings and freezing them straight away before baking, locks in all the goodness and allows the consumer to bake them fresh from frozen in 20 minutes, making them a convenient and quick way to provide a wholesome restaurant quality food experience at home.
We are a start-up company and we are delighted to be part of the Food Academy. You can find us in store in West Cork. And if you follow us on social media you'll get updates of new stockists.
We are based on the Beara peninsula and we will be creating much needed jobs in a rural community.
Facebook: https://www.facebook.com/goodnessme.ie