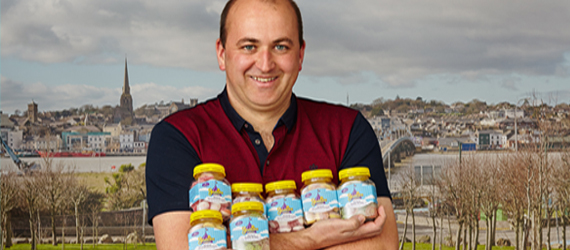 Goodies of Wexford is a family run business making traditional and new sweets that surprise and delight. All of our sweets are made with all natural ingredients and are gluten free.
We use Wexford fruits in as many of the sweets as possible, such as:
• Wexford Strawberry and Cream – Made using real Wexford Strawberries!
Sourced locally from Greenhill fruit farm
• Wexford Apple Drops - Featuring Apples grown in Ballycross farm,
Co. Wexford
• Wexford Rhubarb and Custard - With Rhubarb from Malcolm Robertsons' farm

• Clove Rocks - are made to a traditional recipe! We have been told it's the best Clove Rock in the country

We are currently our own range of fruit jellies using Wexford fruits and we hope to have these on the supermarket shelves, making us the only Irish company manufacturing Jellies.
Our Story started with my sweet tooth and my love for good quality sweets! With Wexford being known for producing the best fruit in Ireland I decided why not combine the two and make our own range of sweets using real Wexford fruits where possible.