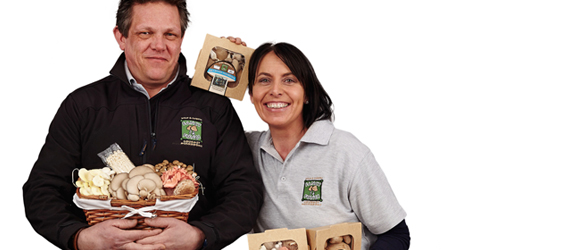 Naturally grown, naturally beautiful and naturally good – that's the promise from Wexford artisan mushroom producer, Fancy Fungi Mushrooms. What started out for my husband, Nikk and myself, Catherine George as a hobby years ago, picking wild mushrooms while out walking our dog, has turned into a successful enterprise today. At the time we grew herbs in our garden for the local restaurants and whenever we had an abundance of mushrooms we would also deliver them to the local chefs who were delighted with such unique and locally grown produce to add to their menus! We progressed to the stage where we decided to cultivate the mushrooms ourselves and the rest is history…!
Our tunnels are situated in the beautiful sunny south east of Ireland, not far from the picturesque seaside / fishing village of Kilmore.
Over the years we as dedicated Irish producers have used personal experience and trial and error to research and develop the process of producing four specimens of gourmet mushrooms - Grey Oyster, Golden Oyster, Pink Oyster and Shiitake Mushrooms. To complement our range we also buy in a few different varieties from France and Poland to produce a 'Forest Mix' - a truly splendid combination of textures and flavours. Dedicated to be the best exotic mushroom producers in Ireland, we produce high quality, fresh, exotic and gourmet mushrooms naturally and chemical free, which we sell directly to wholesalers, restaurants and consumers around the country.
Through the help of Supervalu's Food Academy and our local Enterprise Office we have recently launched a range of our pre pack mushrooms in Supervalu Stores throughout Wexford. Our aim is to actively encourage people to eat healthier and introduce them to easy to cook recipes for the whole family that are simple, tasty and nutritious through our in store tastings. We are delighted to have the opportunity to work with Supervalu on this new venture.
We launched a new range of mushroom products… Mushroom Paste, Pate, Pickled and Dried Mushrooms which we hope you will enjoy! The Wexford grown gourmet mushrooms are so versatile for breakfast to dinner menus, special diets, vegetarians and diabetics, as a starter, part of the main course, soup, risotto, paté, sauce, or as a meat substitute for vegetarians - mushrooms are magic!
Low in salt and cholesterol, naturally rich in protein, fibre, minerals and vitamins and full of the delicious savoury umami flavour.
Go healthy….just add mushrooms!
We are also a part of the Wexford Food Family, who are dedicated to sharing quality produced Artisan Wexford foods and offering support and encouragement for each other. We believe in growing local, buying local and supporting local.