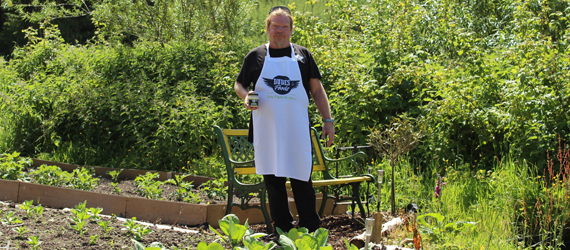 Graham from Brosna, Co. Kerry has always had a very keen interest in food and cooking even when he was in the printing industry. Being a keen vegetable, fruit and herb gardener he had decided to join his two passions together to form a new direction in his life. After two yeas of preparation work and many ideas he has decided to enter the food market using knowledge from being a Vegan. This he has used to create Dudes Foods a dedicated Vegan Food company operating from a newly constructed Vegan only kitchen in the hills above Brosna, Co. Kerry.
Although he knew what he wanted to do he wasn't really sure how to go about it but applied to get on the Supervalu Food Academy that was also supported by Bord Bia, Local Enterprise office Kerry, Kerry County Council and Musgraves group. This wonderful learning experience has given him the knowledge and expertise required to get Dudes Foods Egg Free Mayonnaise onto the shelves of Supervalu.
The Egg Free Mayonnaise was born when his Fiancée challenged him to make a Vegan Mayonnaise as good as the leading brands. This challenge was duly accepted and two and a half days later Dudes Egg Free Mayonnaise was born. From that moment on she will not go back to her previous brand stating 'It's Thick, Smooth and Creamy and doesn't melt when put on my veggie burgers like the other brands.'
Dudes Foods Egg Free Mayonnaise has been certified by the Vegan Society and proudly carries the world recognised Sunflower Vegan symbol. It is made in small batches in an Artisan way only using the freshest ingredients with no artificial or animal based colours, flavours and preservatives.
Dudes foods is a very family orientated business involving everyone from the youngest to the eldest in all ways, whether taste testing new products, helping out on tasting stands or just being there to help the business succeed. Continual innovative new Vegan products will be brought online in the future and we hope to have a long and fruitful relationship with SuperValu.