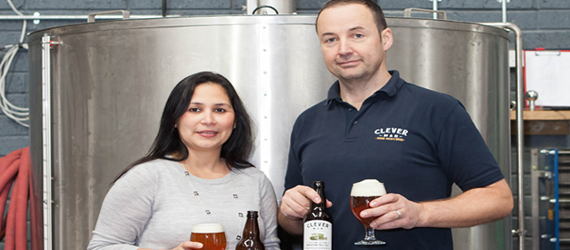 Drew Fox Brewing is Wexford's newest Irish Craft Brewery and was founded by Malcolm and Andrea Moloy in 2013. Malcom, a Dublin native, lived in the USA for many years and met his Texan wife Andrea in Chicago. The couple own a pub in Chicago called The Grafton Pub & Grill. Their love of craft beer developed in the windy city. Malcolm and Andrea moved to Ireland with their three kids in 2010 and relocated to Wexford to the sunny southeast. Malcolm wanted to start a new business in Ireland. The couple were watching and supporting the growth of the craft beer industry in Ireland and in the spirit of adventure decided to join the movement by establishing an Irish Craft Brewery. They have invented four new Irish craft beers that will change the way you think and drink beer. Their beers are named in honour of four clever Irish men and their inventions.
The support we have received from the local SuperValu stores in Wexford has been incredible. One of our first customers was Pettitt's SuperValu St. Aidans in Wexford town. The support and confidence we received from the entire Pettitt's team helped us introduce our product locally. We formed a great relationship that continues to grow. They believed in our range of beers and in us. Our range of beers can now be found in SuperValu stores around Wexford. The SuperValu owners are some of the biggest supporters of small businesses in Ireland.
There are currently three of us working in the brewery at the moment. We try and use as many local services and suppliers in Wexford and in Ireland. All of our base malts are Irish. Our spent grains are then collected by local farmers to feed their cows. As our business grows, we look forward to employing more people and building strong relationships within our community.