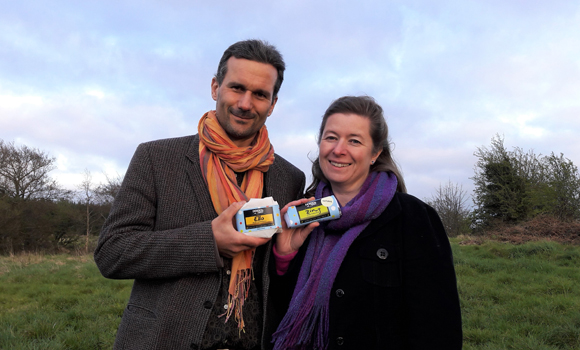 Dozio's of Mayo, where the South of Switzerland meets the West of Ireland... Over 25 years ago when Danilo Dozio and Helen Grady met little did we know that one day we'd be married with a family, making cheese using ancient recipes from Canton Ticino in the South of Switzerland, with beautiful, creamy Irish milk in County Mayo!
Living in Ireland, one of the things we missed about Switzerland was the cheese, in particular the delicious regional cheese from Ticino, where Danilo grew up. It became our dream to set up a dairy and make Furmagella and Zincarlin, 2 types of cheese from that area. We were confident that traditional Swiss recipes and high quality grass based Irish
milk would be an excellent combination and would make a unique product. This proved to be true.
After 4 years of research, building, sourcing equipment and funding, doing business, hygiene and cheese courses and experience on Swiss cheese farms, we finally set up our dairy in Helen's home village of Carracastle, 5 km from Charlestown, in East Mayo.
On a frosty morning at the end of November 2016 we began collecting milk from a neighbouring dairy farm with a herd of 55 Frisian cows and we made our first batch of ELLA, Irish Furmagella. ELLA is a semi-hard cheese with a mild, buttery taste which leaves you wanting more!
Not long after we began making ZING, Irish Zincarlin. ZING is a soft cheese, hand-rolled into logs and available in Natural, Black Pepper & Garlic, Sun-dried Tomatoes and Ginger & Chili. The first 2 flavours are eaten in Switzerland, but the other 2 are our own Irish twist on the recipe! We are fully approved by the Department of Agriculture, Food and the Marine (approval no. 2113), are HACCP compliant and pasteurise each batch of milk in our dairy.
Our cheese is now available in shops and restaurants in counties Mayo, Sligo, Roscommon and Galway, instantly recognisable by the colourful dots on the packaging, as if to say "dots-e-o" for Dozio. Last November we joined the Food Academy - the mentoring we received and the support from other small producers was a great encouragement to us. We hope to increase our sales through the Food Academy and
expand to a wider area, potentially taking on staff.
Thanks to the cheese we create, we can live with our 3 children in rural Ireland and we directly support another family with 4 children by sourcing fresh milk, our main ingredient, from their dairy farm.