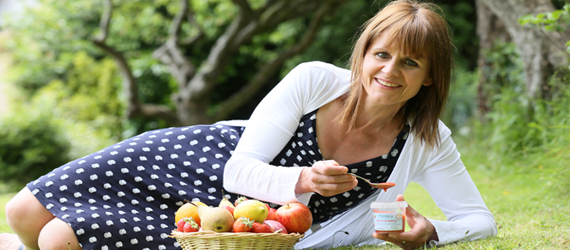 Clotilde's Fruit Compote Ltd was established in 2011and is based in Glanworth, Co.Cork. Clotilde, who is French, is producing an apple-based fruit compote, similar to her mother's without any added sugar or preservative. The range includes apple & strawberry, apple & raspberry, apple & pear, apple & blackberry, apple & lemon, apple & orange, apple & mango and apple & pineapple.
The company started small, producing for Farmers' Markets first of all to see how the customers reacted to the product. The reaction was very good thanks to its health benefits but a lot of education needed to be done to explain what a compote was and what to do with it. We then sold the product to our local Supervalu stores in Fermoy, Mitchelstown, Midleton and other local stores. We then increased the number of stores and started supplying a few Supervalu stores in the city, West Cork and Kerry. We took part in the Supervalu supplier development programme in 2012.
The Food Academy programme was introduced in 2014 and Kenneth O'Connor really recommended that we would apply for it. After completing the course successfully, more doors open to us. Stores who were previously reluctant to stock our products were now more than willing to take them and give us a chance. We were now part of the family of Irish artisan producers and this image was very positive. Musgrave launched into a very good advertising campaign to promote the products from all Food Academy producers. This promotion was very beneficial as it emphasised on the fact that the Food Academy shelves stock very good quality Irish products. This promotion is ongoing and opportunities to grow are real and encouraged.
Opportunities to grow are, as I said, real so our plans are to grow the business and employ staff in the production department. As sales increase, the distribution will have to be outsourced and more in store promotion will be needed. All these activities will mean that there will be some job opportunities on offer.