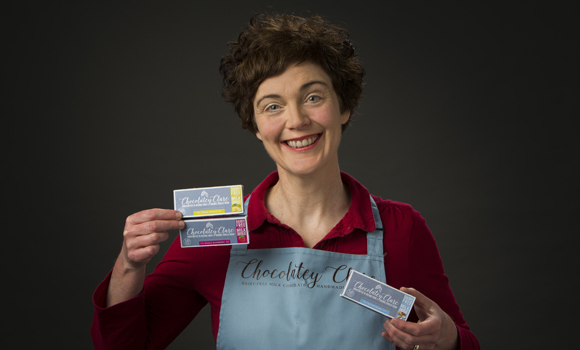 Chocolatey Clare was set up in April 2016 to meet the growing demand for a creamier alternative in dairy-free chocolate. Having worked for thirty years in the field of technical translation and then adult literacy, I decided to take a leap into a brand new career making chocolate. I fine-tuned my recipe using premium organic and fairly traded ingredients, and I proudly make my chocolate from scratch in a professional Dublin kitchen. My objective was to produce truly delicious handcrafted chocolate that could be enjoyed by everyone.
The SuperValu Food Academy Programme has been an enormous help to me in establishing my business and achieving my entrepreneurial dream. The guidance I have received has been invaluable in navigating all the challenges I encountered along the way. Thanks to the excellent mentors and trainers, I have gained knowledge and skills that will benefit me throughout my future career.
As my business expands, I look forward to training others in the art of crafting sumptuous confectionery from the purest of ingredients, ever mindful of quality, ethics and the sheer joy that is chocolate.