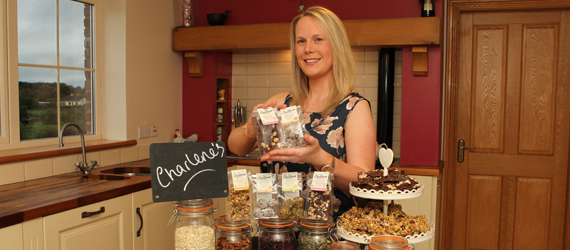 Charlene's Wholesome Pantry
Charlene Brady is a working mum, with a qualification in Food Science and a passion for nutrition and wellness. That's why she founded Charlene's Wholesome Pantry, based in Ballinagh, Co. Cavan.
Her healthy, superfood snacks were already a hit at local farmers' markets and food fairs. Starting with seed, fruit and nut slices, she moved onto making energy balls, a wholesome snack on the go. The range includes options for vegan, vegetarian, paleo and wheat-free diets. All her products are dairy free, made using high quality ingredients.
While committed to wholesome food, she also makes sure her range is tasty and satisfying, perfect with a cuppa or on the go.
Charlene is delighted that SuperValu and Food Academy provided her with the advice, support, knowledge and confidence she needed to get her products on the shelves. Her aim now is to grow the business and provide more jobs in her local area.