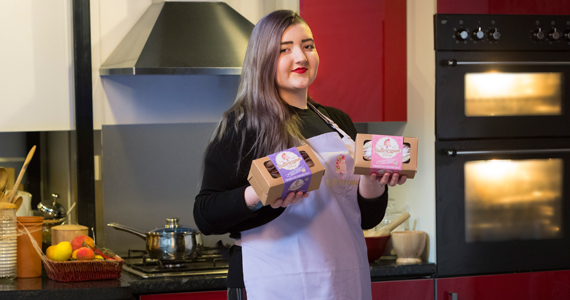 Lauren began Buttercream Dream in July 2017, with the aim of bringing baked vegan indulgence to the masses here in Ireland. Indulgent vegan baked goods that appealed to her were nowhere to be found, nothing gave her that satisfying feeling like traditional baked goods did, and she knew other vegans and those with egg and dairy allergies must have felt the same way. Feeling passionately about veganism, Lauren's objective was to prove that vegan foods can be just as delicious and decadent, if not more so, than their non-vegan counterparts.
Having just finished first year of her dream university course, Lauren decided to leave to go on to study Culinary Arts to learn the skills needed, despite never having baked before. That's exactly what she did, and the day she graduated from Culinary Arts was the same day she moved to London to work in the UK's leading vegan bakery.
Now, back in Dublin, you'll find her whipping up a storm in her professional commercial kitchen unit, baking everything by hand in small batches for ultimate freshness and quality for SuperValu, markets, wholesale and events.
''The SuperValu Food Academy has been of enormous help to me in establishing my business and achieving my dream of bringing vegan treats that not only satisfy your sweet tooth but your conscience, to the market. The mentors and trainers are a powerhouse of knowledge, and I thoroughly enjoyed meeting other small producers along the way.''
As Buttercream Dream expands, Lauren hopes to employ 2-3 people to help her along the way, allowing her vegan delights to reach even more people around the country. Launching two boxes of handmade vegan cupcakes to the market that are also: nut-free, free from artificial colouring and preservatives and in recyclable packaging allows the products to appeal to a large audience of people, ensuring that regardless of their lifestyle or dietary choices, everyone can enjoy the delight that is cake.