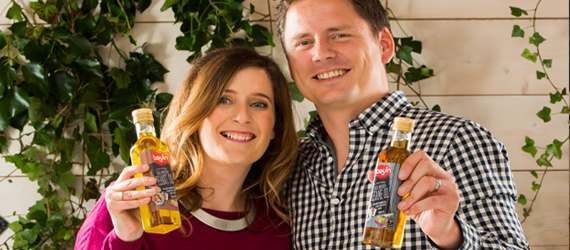 Bayin is an Irish company set up by husband and wife team (John Jenkins and Katrina Crawford). The idea to start this company came about whilst on honeymoon in Myanmar in November 2013. We had tasted so many delicious foods and wanted to bring a taste of Myanmar home with us. We realised that the Irish consumer would also like to have a taste of Myanmar.
We are sourcing directly from a farmer in the small village of Myin sine in the region of Magway who produces natural, high quality and great tasting sesame and peanut oil.
Bayin is a social enterprise. Whilst trekking in the hills of Myanmar during our honeymoon we visited schools and saw the lack of resources in these village schools but also the thirst for knowledge that the children have. We realised we could help these schools by providing resources in the rural villages by giving back using Bayin profits. We have just returned from Myanmar where we went to the school in Myin Sine village to provide notebooks and footballs for the students.
Our company is the first in Europe to import food products from Myanmar. This has proved challenging at times but made receiving our products for the first time in July 2015 so much more rewarding.
Being a part of the Food Academy has been extremely beneficial for us from providing us with knowledge on how to run a food business during the food academy classes to the indispensable advice we have received from SuperValu, both during the Food Academy and also in store management. It has also linked us with other food companies in Dublin and Ireland. By having this Food Academy network of food companies we have been able to draw on the knowledge and experience of others.