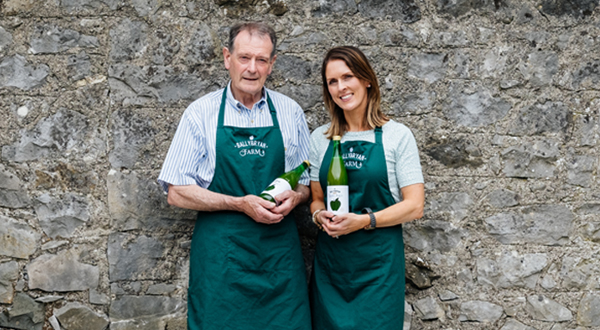 Gerard Lalor has been farming at Ballybryan, Rhode, Co. Offaly since 1982. His main enterprises are tillage - growing wheat, barley, oats and spring beans; and Free Range Bronze Turkeys - of which 650 turkeys are reared and processed on the farm for Christmas each year.
Gerard further diversified by planting an orchard. He planted 20 varieties of Irish Heritage Apples under the Rural Environmental Protection Scheme aimed at saving the old varieties from extinction, and supporting our native ecosystem. It was planned initially that the apples would provide additional feed for the turkeys, but the trees yielded so many apples after 6 years that Gerard decided to turn hand-picked apples into Apple Juice, and let the turkeys eat the windfalls! The result of blending 20 Irish Heritage Apple varieties from their pesticide-free orchard is a deliciously, refreshing drink to which no sugar is added.
The apples are hand-picked and bagged by the Lalor family. The cold pressing, pasteurisation, bottling and labelling is outsourced to Con Traas's Apple Farm in Tipperary.
Gerard's daughter Rosemarie has gotten involved in the Apple Juice business to help prepare their produce for sale to retail outlets etc, and get the business fully compliant for that purpose. With a huge harvest annually along with the apple trees maturing, Ballybryan have enough stock to supply several shops, cafes and restaurants in the Leinster region. It is envisaged that the trees should produce a consistent volume of apples due to strategic pruning and the planting of additional Irish Heritage Apple trees.
SuperValu has given us invaluable mentoring through their Food Academy Programme. Through their guidance we have turned a small side-line in Apple Juice where we used to sell directly to the public, into a more viable enterprise, now available in shops and cafes. They have advised us on bar codes, branding, specialist insurance, shelf life testing, nutritional testing, public funding, labelling, food safety, marketing and social media…all a whole new world to us with no prior experience in selling to shops! It has been a steep but very enjoyable and hugely helpful learning curve.
Being part of the Food Academy has also led us meet other small producers whom we have garnered so much from, in terms of their stories of success and struggle, and their advice and support to us. Having an excellent mentor to be accountable to was very beneficial, it really focused us on the items we needed to action in order to get us ready for the retail space.
Growing this business has allowed Rosemarie to work part time with Ger on the family farm at his Apple Juice business. As more trees mature they envisage employing part time labour for pruning and harvesting the apples.