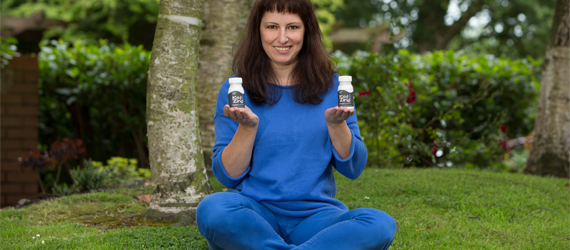 Anastasia Karaiskou lives with her family in Killester, Dublin. She had visited Ireland as a student and fell in love with the country, the people, the life and the craic so in 2011 she decided to move permanently with her husband and son.  The "Farmer's Daughter" herself  soon enough discovered Farmer's markets for fresh and local food for her kitchen. As there was no Greek vendors at the markets she decided to introduce Greek food to Irish people.  2012 Ambrosia Greek Snacks was born to bring the food of Greek Gods in Dublin!
Ingredients from local Irish producers from Farmer's markets being used to create Ambrosia's Greek Snacks delicious, nutritious and clean family food.
2015 Kef-Zing Kefir Drink launched at her stalls and  2017 after taking the great opportunity SuperValue offers to small producers with big dreams she introduces the beneficial drink to  SuperValue customers.
'At my parents house we always had a bottle of homemade Kefir in our fridge use in in our breakfast, lunch or dinner!' Anastasia says,  'When I realize kefir was not very common in Ireland and knowing the tremendous benefits of the miracle drink I decided to introduce it to Irish people.' 
After couple of years research and recipe development proudly presented a NON Dairy Natural Drink, Kef-Zing Kefir drink with Coconut milk! Kef-Zing is home made in Dublin with pure coconut extract and billions of pro-biotic bacteria! You need only One per day to stay fresh, vibe and healthy!