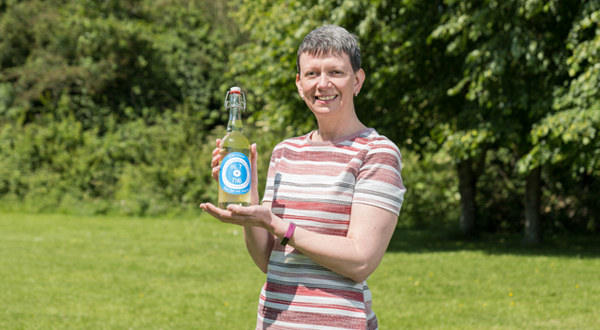 In June 2016, I went on a Hedgerow Wine Making course at Irish Seed Savers in Co Clare. The course included cordial making from fresh elderflowers. Making wine took too long and I wanted to find things that helped me drink more water, and less alcohol! I was blown away by the taste! I started making elderflower cordial for myself and my family.
I'm not a fan of typical soft drinks because they are too sweet and too fizzy! When the fresh elderflower season finished, I experimented with dried elderflowers and came up with Alt + Tab Elderflower flavour. It has less sugar than the typical recipe.
Alt + Tab drinks are made from simple ingredients: water, sugar, fruit/flowers and a little citric acid, which is a natural preservative, as is sugar. No need for artificial stuff when dealing with real ingredients.
The Alt + Tab name comes from my other work, which is teaching people how to use a PC without a mouse. Many people cannot use a mouse, so they use keyboard shortcuts instead. Alt + Tab is a shortcut for switching applications, hence the switch to an alternative soft drink! These shortcuts are essential for PC users who are blind. This drink is dedicated to them.
The Supervalu Food Academy course has taught me how to take a product from scratch to putting it on a supermarket shelf. It has supported me through all the aspects needed from labelling to marketing to shelf life testing to balancing the books. I couldn't have done this on my own, and the support and mentoring I received has made all this possible.
My biggest support has been my customers who insist that I never give up on producing their favourite drink! They tell me that Alt + Tab gives them something special that is a worthy alternative to a glass of wine, so they can treat themselves when they might need to drive or need to care for others.
Collaboration with Childvision, the National Education Centre for Blind Children, has made Alt + Tab drinks a social enterprise; bottled on Childvision premises, giving work experience to their students and supporting their services through a donation of the profits.