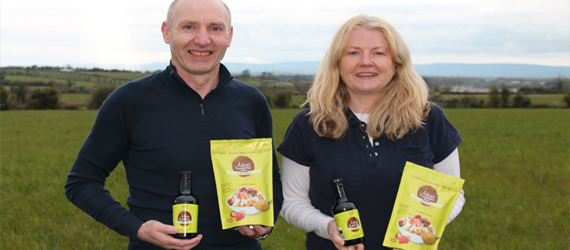 John and Kathleen Irwin set up the Adora Flax Company after 3 years researching and trialling the growing of flax seed organically in Ireland. As it hadn't been done in Ireland before much research was needed.  They also spent that time period trialling the production of high quality flax seed products that are of the highest standard to enable them to retain their natural health properties. 
John and Kathleen have Engineering and Marketing backgrounds respectively but they were both originally from farming backgrounds.  Kathleen grew up on a farm that was once a flax mill years ago in Ireland for producing linen and was familiar with stories of flax seed, so when she was studying nutrition and came across the health benefits of flax seed, it just all resonated with her.  Then she went about persuading her husband to change their farm holding and start growing flax seeds.
There was a lot of learning in those first years of growing with wet summers and difficult harvests but each year the growing methods were improved and now Adora Flax has other certified organic farmers around the country growing the crop for them also and supplying them with the raw material for their products.  They still have to import some seed to meet their needs but it is their intention to be able to produce enough seed here in Ireland to meet their growing needs. 
Kathleen and John joined the Supervalu Food Academy because they recognised Supervalu as being an Irish owned supermarket that is widely known for supporting Irish food producers and locally sourced food and felt that they were a good match for each other.  Adora flax supports other Irish farming families who they contract to grow the crop for them. Furthermore they are creating employment in their area through their own production and through promotional activities. 
Adora Flax currently produces 3 products, firstly the high quality 250 ml flax oil for consuming daily with your porridge, yoghurt or salad dressing.  This oil is full of Omega 3 and 6 which helps to insulate the cells in the blood and protect them from inflammation. They also produce a 350g handy carrier pack of whole flax seeds which is full of fibre and when soaked in a glass of water for a couple of hours will line the inside of your stomach, feed the friendly bacteria in your bowel and then pull 5 times its own weight in moisture and toxins out of the body.  They also produce a 450g convenient, ready to use ground flax seed which can be used as a filler or for sprinkling over your salads or meals.  The health benefits from these products are many and more details can be viewed on their web site www.adorafarm.com. 
They are currently working on their next idea to add to the present portfolio of products and are looking forward to working with Supervalu in the future.