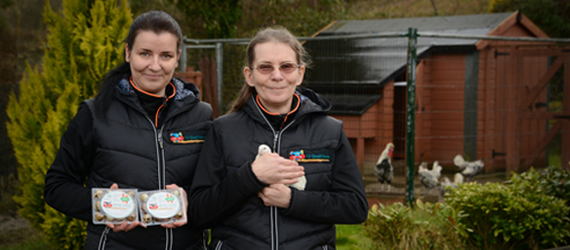 In 2013, Tiina decided to take 12 quails for pets to keep her company and provide eggs. The cute little birds gave her the idea to create the 12 Quail Farm with the intent to provide quail eggs also to others.

Based in Foxfield, Co. Leitrim, 12 Quail Farm started producing delicious quail eggs for selling in July 2013 with just 12 quails. Initially supplying customers in the County Leitrim area only, the farm later began increasing the range of deliveries.

In 2014, as the customer base was growing in other counties, Tiina's daughter Liisa decided to leave her intense IT career behind and began working together with her mom on the farm. Today, the farm run by two city girls has around 700 quails and 4 different breeds of quail birds, supplying retail outlets and restaurants in the Republic of Ireland and in Northern Ireland with quail eggs and whole quails.

Becoming a supplier to SuperValu nationwide in 2016 has been a significant step forward, the production has increased and soon more hands will be needed.

We are grateful for all the support and advice provided by the highly qualified Food Academy staff who assisted us in becoming a supplier to SuperValu.

SuperValu has a nice way of introducing new products to its customers and at the same time promoting local producers and small scale entrepreneurs.

MADE IN IRELAND. 12 Quail Farm is proud to be part of a system where local people count!