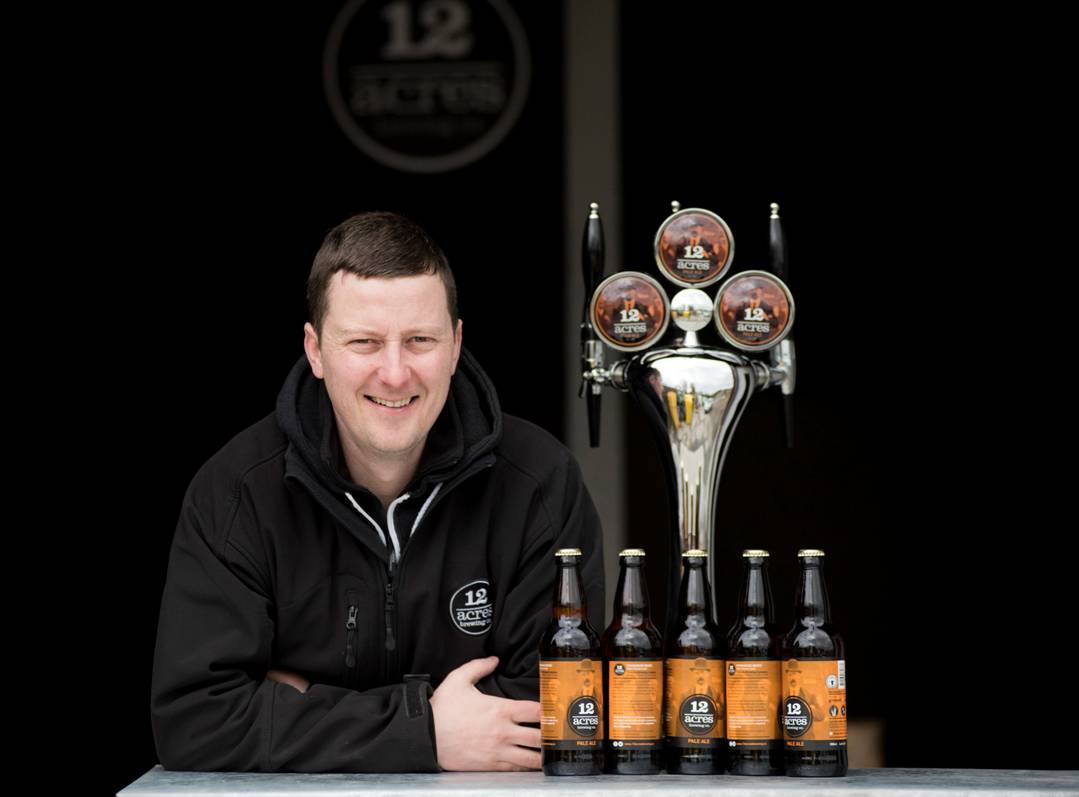 12 Acres Brewing Company is a new craft brewery located in Clonmore, Killeshin, Co. Laois, set up by brothers Ian, Rory, Barry & Patrick McDonald, on our family farm. The 12 Acres field on our farm Is where we have been growing malting barley for the brewing industry for generations. Now we are craft brewing our own beer and we've named it after one of the fields where the barley is grown. By brewing with our own malted barley and spring water from deep beneath the same land, we are producing unique local craft beers with traceability from our ground to your glass.
Our family has been farming at Clonmore for over 6 generations. The farm has been supplying malting barley to Ireland's finest malting companies for generations and our malting barley has won several awards for its excellence in quality. It was our great grandparents, John and Annie McDonald, who added the 12 Acres field to the family holding back in the 1920's and it has been farmed by our family ever since. In fact, John and Annie, together with farm workers from the 1920's are featured throughout our branding and labels. If you look carefully you might even see the old threshing machine behind them! Previous generations of the family also established on the farm the successful agri-businesses of the Leix Dairy and Clonmore Meats. With this new farm venture, as four brothers, we are continuing the family entrepreneurial tradition of taking what our farm yields and crafting it into a quality artisan product.
12 Acres Brewing company is the first craft brewery in Ireland that can provide traceability for its malting barley. This is possible due to our long-standing relationship with our local malting
company.  We are also brewing with our own spring water from a source deep beneath the same land. This source is fed by the limestone aquifer of the Barrow Valley region which is known for
its high quality water and produces water chemistry ideally suited to brewing. The by-products of the brewing process are the spent malting barley grains, spent hops and excess yeast.
All of these by-products will be used as animal feed on our farm, resulting in zero solid waste from the brewing process and a full life-cycle of our ingredients. This ensures a sustainable environmentally-friendly process from ground to glass. 
12 Acres Pale Ale – 4.6% abv – is our flagship beer. Our pale ale is a take on the American Pale Ale (APA) style, with more emphasis on the malt flavour than a traditional APA. Our own spring water
is the main ingredient and we add our own pale ale base malt which forms the majority of the grist, to give the fermentable sugars and flavour to our beer. We also use a small quantity
of three other European speciality malts, giving more maltbody, texture and additional caramel flavours to the beer. The sweetness of the malt is balanced with American hops; Cascade,
Williamite and Citra, with three additions to the boil to give that distinctive American Pale Ale bitterness and citrus flavour. Our pale ale is also dry hopped to give a lovely tropical fruit aroma to
the finished beer. It's great with spicy foods!