Few wines match our chilly winters better than Rioja, says Raymond Blake as he takes us on a journey around the famed Spanish region.
Fashions in wine come and go with the seasons but thankfully there are some constants, and none more so than Rioja, a long-time favourite here in Ireland, where we have lapped it up for decades. When comfort and dependability are desired above all else there is hardly a wine better equipped than Rioja to provide it, especially in the winter months when its warm, satisfying flavours seem to carry some of the brilliant sunshine of northcentral Spain.
The Rioja region is centred on the city of Logroño and is divided into three sub-regions: Rioja Alta, Rioja Alavesa and Rioja Baja. Alta is the most prestigious and sees itself as the true, historical home of Rioja. Alavesa is part of the Basque Country and is known for lighter, fruitier wines. Baja was once regarded as the country cousin, with wines to match, but is full of excitement and innovation now.
As in all walks of life, competition has been good for Rioja. There was a time not that long ago when it presented a tired, resting-on-laurels face to the world and the wines reflected this. There was an absence of excitement on the palate, but competition from inside and outside Spain has forced the Riojans to up their game. Sloppy practices have been weeded out and greater care is now being taken, both in the vineyards and the wineries. The results in the glass are plain to see: lively and vigorous flavours that are immediately appealing but enduringly attractive also.

Covila Wines
a family of families
Wine has been made in Rioja Alavesa as far back as Roman times, so they know a thing or two about the land and wine making. Some families have been farming the vine, which is the main crop of this poor soil, for many generations – what's bad for cereal is more often than not excellent for growing grapes. In fact, Bodegas Covila includes some of the best locations in Rioja, including Alavesa Lapuebla de Labarca, Elciego and Laguardia.

Pablo Sampedro of Bodega Covila explains: "The hilly, irregular landscape meant there was no alternative cultivation, no cereal for the people to grow, so we have always grown grapes here. Everyone had their own little plot of land and their own cellar where they made their wine to sell."
This all began to change some 30 years ago, as improvements in agriculture and mechanisation meant that the harvests were more abundant. Suddenly people who had made their own wine in their own homes had harvests beyond their small capacity, so they needed to share resources. From this genesis Bodegas Covila was born, turning what some might see as a disadvantage into an advantage: numerous growers with 800 small parcels of land, most of just half a hectare. Yet because of the holdings' diminutive size, each owner has intimate knowledge of a small piece of land and pays enormous care and attention to their small harvest.
For their premium wine, Pagos de Labarca, Pablo Sampedro explains that Covila enters into agreements with the growers, guaranteeing a minimum price for their grapes in exchange for a commitment to the same style of grapes. This means that even if the final crop does not make the grade, they still get paid. Guidance and expertise are also matched with local knowledge to ensure the best results for each smallholding.
The Bodegas Covila celebrated their twenty-fifth anniversary in 2015. Although in simple terms they are a co-op, in reality they are a family of families with wine knowledge stretching back many generations, and it shows in the glass.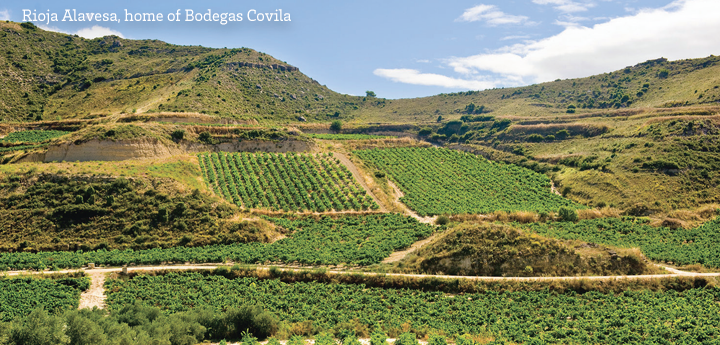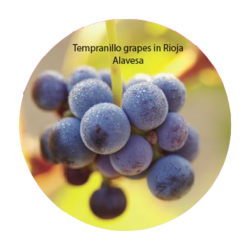 Tempranillo is the signature red grape of Rioja, where it produces beautifully harmonious wines with abundant fruit and an appealing savoury character that adds complexity. The best examples can age remarkably well, softening appreciably but not weakening, until perhaps half a century has passed. Other grapes are also permitted in the region, such as Garnacha, Graciano, Mazuelo and small amounts of Cabernet Sauvignon, but Tempranillo is king.
Food Matching - Quick Guide
Roast red meat is the obvious choice, with lamb being unquestionably the primus inter pares match for the best Rioja you can lay your hands on. Whole roast baby lamb that falls apart at the touch of the knife is a local treat, but a leg of Irish lamb, roasted plain without fancy-pants herb crusts and the like, can be just as good. Hold the mint sauce, though, as it clashes with wine.

New Oak
In the closing years of the last century an obsessive use of new oak barrels, usually American, reached a point where the wine was almost disfigured by it. Mercifully that trend has peaked and today there is greater use of the more restrained French oak and a gradual move away from using too much new oak of whatever origin. Your palate is the beneficiary of the more balanced style that results.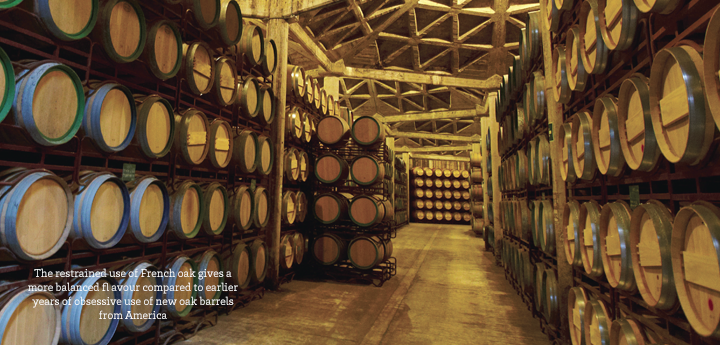 Rioja & Architecture
A visit to the Rioja region has much to recommend it. Fly to Bilbao and check out the Gehry Guggenheim museum there. Journey on to Rioja and check in to the Gehry hotel at Marqués de Riscal, which has been described as resembling a lady's hair blowing in the wind. And that's not all. Santiago Calatrava is responsible for the wavy Ysios bodega designed to echo the Sierra de Cantabria mountains behind it. Ally these treasures to the wine and food of the region and you have a winning combination.

And Finally...
The River Ebro forms the spine of Rioja, but curiously the region takes its name from the barely-more-than-a-stream River Oja (Rio-Oja), which eventually flows into the Ebro. Rioja likes to be pronounced properly, so draw back from a hard-hitting 'Ree-oak-ah' and slide across the softer 'Ree-och-ah' instead.