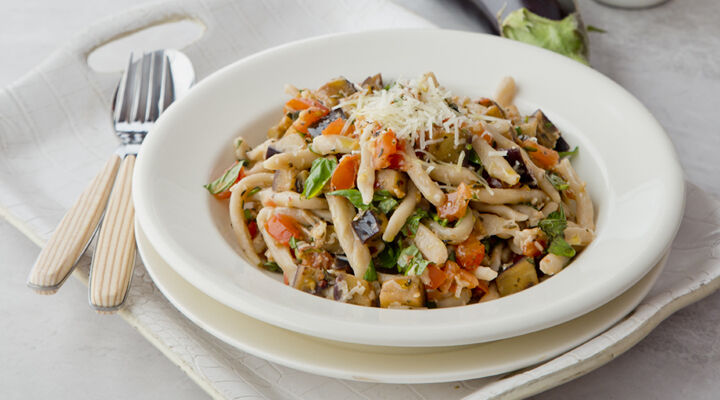 RECIPE OVERVIEW
A beautiful pasta dish the whole family will enjoy. 
1

large

Aubergine

, cut into 1cm cubes

1

bunch

Basil Leaves

, chopped

4

large

Garlic Cloves

, finely chopped

1

tbsp

Olive Oil

, plus an extra dash

80

g

Parmesan Cheese

, finely grated

450

g

Strozzapreti

or spaghetti

6

medium

Tomatoes

, cut into 5mm cubes
Method
Place the cubed aubergine in a bowl with the garlic, thyme, oregano, salt, pepper and chilli ­flakes and toss everything together.
Add the tablespoon of olive oil and toss again. Set aside for 10 minutes. Heat another dash of oil in a large pan over a medium heat.
Add the aubergine mixture, discarding any liquid that may have come out of the aubergine. Fry until golden. Add most of the chopped tomatoes to the pan and stir them through.
Allow to simmer away over a low heat with the lid on for 10 minutes. Season to taste. The ­flavours will blend together, better if the sauce is made a bit in advance. Put your pasta on to boil in light salted water.
The rugged pieces in the sauce tend to get nicely trapped in the twists and turns of the strozzapreti, but if you can't get it in your local shop, spaghetti works well too.
Drain your pasta into a bowl so that you can collect the liquid. Stir almost all of the basil into the sauce along with half of the cheese and 2 tablespoons of the pasta water.
Taste and add more seasoning if needed. Stir the pasta into the sauce so that it all gets coated. Scoop it onto four plates and scatter over the remaining fresh tomatoes, then sprinkle the remaining cheese and some fresh basil on top.
Be the first to add a review.