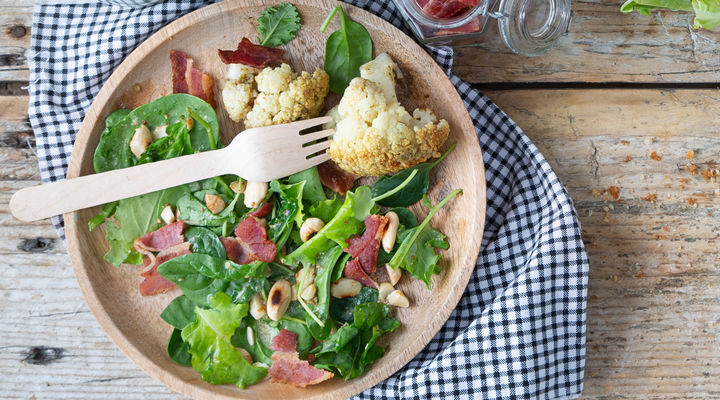 RECIPE OVERVIEW
With a bit of preparation you can turn a picnic into a stylish and healthy feast and Clare Anne O'Keefe has the perfect picnic menu.
1

-

Cooked Bacon

couple slices cut into bite sized pieces, optional

2

tbsp

Dr Coy's Veg Bouillon

180

ml

Light Olive Oil

plus extra for drizzling

1

head

SuperValu Cauliflower

with outer leaves

75

g

SuperValu Fresh Thyme

leaves stripped

70

g

SuperValu Goodness Whole Almonds

200

g

SuperValu Spinach and Baby Kale
Method
1. Preheat the oven to 180°C/gas mark 4.
2. Put the garlic and shallots on a baking tray and roast in the oven for 20 minutes. Remove and allow to cool, then peel. Blitz the peeled garlic and shallots with the lemon zest and half of
the lemon juice in a small blender. Add 100ml of the olive oil along with the thyme, bouillon, cumin seeds and paprika, then blitz again into a wet paste.
3. Trim the outer leaves from the cauliflower by cutting through the base and separating it in one piece. Reserve the leaves, but trim away and discard the stalk so that the cauliflower can sit flat, then cut a cross into the base. Generously cover the cauliflower in the paste, making sure to turn the cauliflower over and drizzle the paste into the interior of the cauliflower too. Place in a lasagnestyle baking dish and drizzle over a last glug of oil. Roast in the oven for 45 to 50 minutes, until tender, covering loosely with foil for the final 20 minutes. Allow to cool in the dish. 
4. Meanwhile, toast the almonds in a dry frying pan over a medium low heat until golden brown, then leave to cool.
5.  Mix the honey with the remaining lemon juice and the remaining 80ml of oil by pouring all three ingredients into a large Kilner jar and screwing on the lid, then shaking to combine. Season to taste with salt and pepper. Roughly chop the almonds, then add to the jar.
6. To pack, pop the cooked cauliflower back into its leaves and use fancy toothpicks to secure it. Wrap in greaseproof paper and pack into a basket along with the jar of salad dressing topped with the  bag of leaves. Put the cooked and sliced bacon in a separate jar. Serve the dressed leaves with florets of roasted cauliflower on top and scatter over a few pieces of cooked bacon, if using.
Be the first to add a review.