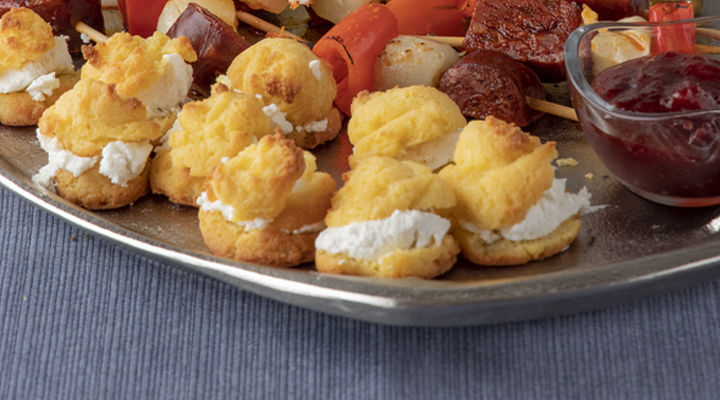 RECIPE OVERVIEW
A gougère is a baked savoury version of choux pastry combined with cheese. They look far more complicated to make than they really are, making for a stylish but easy solution to special occasion canapés.
140

g

SuperValu Plain Flour

1

pack

SuperValu Signature Tastes Comté

150g, grated

1

pack

SuperValu Signature Tastes Gortnamona Goats Cheese

150g

1

pinch

SuperValu Signature Tastes Pink Himalayan Sea Salt

to taste

75

g

SuperValu Unsalted Butter
To Serve:
1

jar

SuperValu Signature Tastes Beetroot Relish
Method
1. Preheat the oven to 180°C/gas mark 4. Line one or two large baking sheets with nonstick baking paper.
2. Beat the goats cheese and crème fraîche together and place in the fridge. Put the butter and water in a mediumsized saucepan and bring to a simmer, melting the butter. Remove from the heat and quickly tip in the flour. Beat together with a whisk until the mix is coming away from the sides of the pan and forming a ball. Leave to cool for 3 minutes, then use a wooden spoon to beat in the eggs one at a time until they are all incorporated. Add the grated Comté cheese and beat for another minute, then leave to cool for 5 minutes.
3. Place walnut-sized spoonfuls of the mixture spaced well apart on the lined baking sheets. Dip your finger in cold water and press lightly to remove any pointy bits on each ball, then add a few grinds of pink salt over the choux balls.
4. Bake in the oven for 20 to 25 minutes, until golden brown and pued up. Remove from the oven and cool on a wire rack.
5. To serve, split each gougère in half and spread with the goats cheese mix, then sandwich them back together. Serve on a platter with the beetroot relish on the side.
Be the first to add a review.