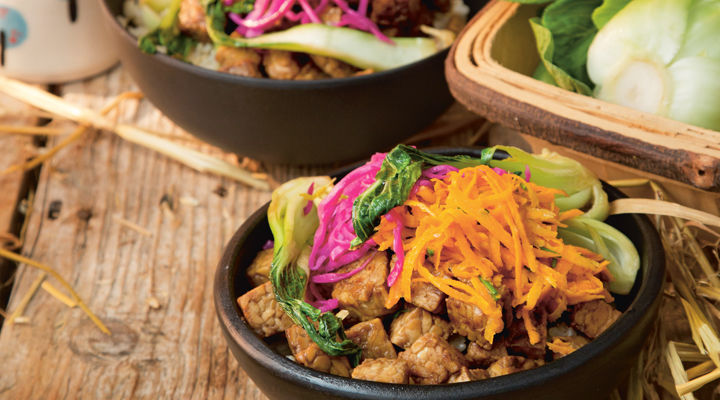 RECIPE OVERVIEW
This dish is inspired from simple, elegant, Hawaiian-style food is served in bowls.
Method
Put your rice on to cook first. Using one part rice to two parts water, bring to the boil in a saucepan, then reduce to a simmer and cook until there is only 2.5cm of water left. Turn off the heat and leave the lid on to let the rice puff up and absorb the remaining water.
For the salad, grate the carrots into a bowl and pour over the lemon juice to stop them from oxidising. Add a pinch of salt, then stir in the chives.
Make the salad dressing by mixing all the ingredients together in a mug. Dress the grated carrots and chives with the dressing.
To make the tofu sauce, put all the ingredients in a bowl and mix well.
Heat a large non-stick frying pan on a high heat. Add the tofu and half the sauce and cook, stirring continuously, for 2 minutes. Add the rest of the sauce and cook for a further 4 minutes. Add the pak choi and cook for 3 minutes. Remove from the heat and leave to one side.
Once the brown rice is cooked, divide it between deep bowls along with some tofu, pak choi and carrot salad. Top with the sauerkraut, if using.
Be the first to add a review.