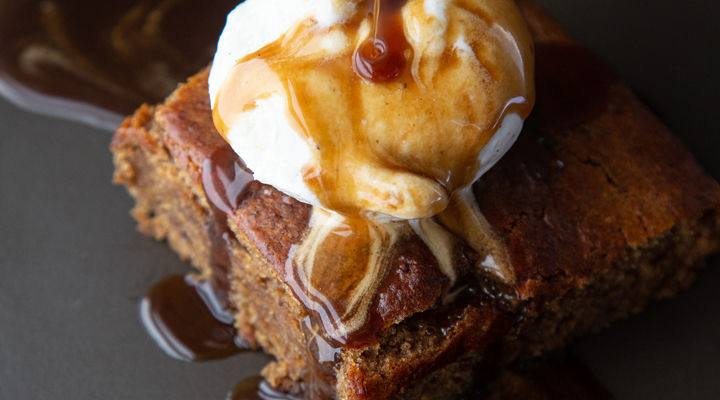 RECIPE OVERVIEW
This is a simple take on the classic steamed date pudding. Best served warm with your favourite vanilla ice cream of choice.
For the pudding
2

tbsp

Black Treacle

or maple syrup

200

g

Pitted Dates

chopped and stones removed

75

g

SuperValu Sunflower Oil
Method
Preheat the oven to 180℃.
Add the dates to a bowl, pour the boiling water over them and leave to sit.
Make two flax eggs by mixing together the ground flax seeds and the water in a mug, mix well and leave to sit for five mins.
In another bowl, add the sunflower oil, vanilla extract and treacle and mix until combined.
Mix the flour, sugar, baking soda and baking powder in a large bowl.
In a food processor, blend the dates and water till you reach a smooth caramel like texture.
Make a well in the middle of the dry ingredients and mix in the flax eggs, the date mixture and the sunflower and treacle mix until well combined.
Line a baking tray (approx. 34cm/13 in x 34cm/ 13 inches) with baking parchment and pour in the cake batter.
Level out and put in the oven to bake for 30 minutes.
FOR THE TOFFEE: In the meantime, in a large-bottomed pot on high heat, add the water, lemon juice and coconut sugar and use a whisk to stir continuously to avoid any of the sugar catching to the bottom and burning. After approx. 3 - 4 minutes the sugar should start to dissolve into a smooth caramel. Gently add the coconut cream from the top of the tin of coconut. Be careful not to add any of the water from the tin of coconut milk. Continue to heat and stir until it starts to become bubbly and smooth. Once smooth turn off the heat and leave to one side to cool and thicken up.
Take the cake out of the oven and leave to cool. Once cool add half of the toffee on top of the cake to give a glaze. Keep the remaining half of the toffee to serve on top of the ice cream with the pudding.
Cut into brownie shaped pieces and serve with dairy free vanilla ice cream and the remaining hot toffee poured on top.
Be the first to add a review.