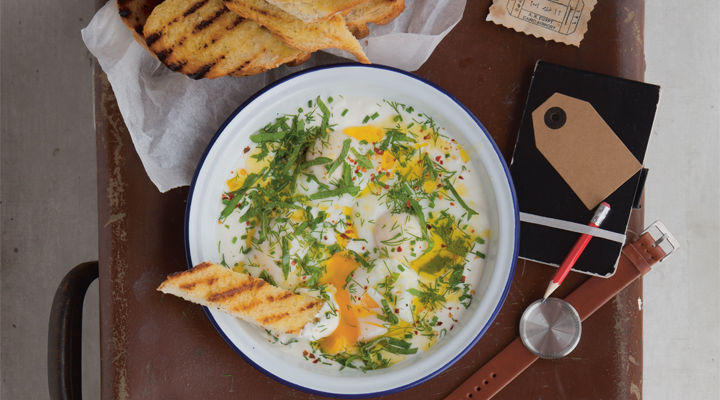 RECIPE OVERVIEW
These eggs are sure to give you that extra kick this morning.
300

g

Greek Yoghurt

plain

1

tbsp

Mixed Fresh Herbs

to garnish

4

slices

Sourdough Bread

toasted, to serve

0.5

tsp

SuperValu Chilli Flakes
Method
Mix the yogurt and garlic together in a bowl. The garlic needs to be well mixed through. Use half a garlic clove for a milder flavour. Add salt and pepper to taste.
Melt the butter in a small frying pan set on a low to medium heat along with the paprika and cayenne pepper. Be careful not to let the butter burn. Once the butter starts to foam, add the chilli flakes. Turn the heat off but leave the pan on the ring for 1 minute, then remove from the heat and set aside.
To poach the eggs, bring a pot of water to the boil. Have two eggs cracked into cups and ready to drop in. Once the water has boiled, add the vinegar and stir the water so it's whirling around, then reduce to a simmer. Carefully slip the first egg in, wait a couple of seconds for the egg to turn colour, then drop the next one in. Continue until all four eggs are in the pan. Poach for 2 to 3 minutes for soft eggs, then remove with a slotted spoon and drain on kitchen paper.
Divide the yogurt between two dishes and gently place two poached eggs on top of each dish. Drizzle the spiced butter on top and garnish with plenty of chopped fresh herbs and some freshly cracked pink peppercorns. Serve with grilled sourdough toast soldiers on the side.
Be the first to add a review.