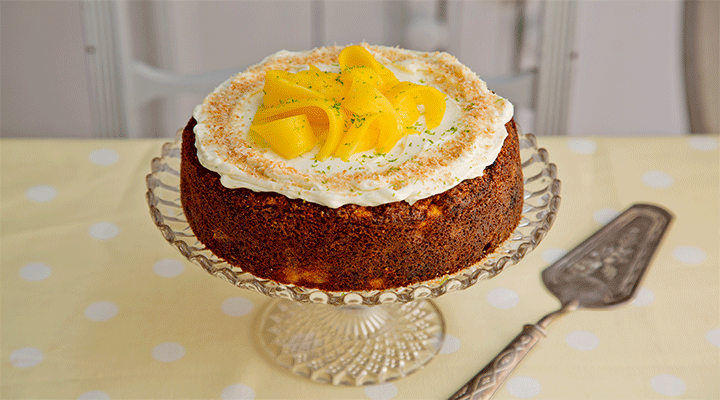 RECIPE OVERVIEW
There's nothing quite like a moist and fragrant freshly baked carrot cake with an added tropical twist of mango, coconut and lime! This really does work well and is an interesting variation on the traditional version. Why not give it a try and see for yourself? 
200

g

Carrots

(3 medium), finely chop

25

g

SuperValu Icing Sugar

175

g

SuperValu Wholemeal Flour
Method
Preheat the oven to 170°C/gas mark 3. Grease an 18cm loose-bottomed round tin with oil and line the base and sides with non-stick baking paper. Sit the tin on a baking sheet and set aside.
Place the oil, sugar, golden syrup and eggs in a large bowl or electric mixer and beat briefly to combine. Peel the mango and reserve a slice for decoration, then finely chop the rest. Add to the mixture with the remaining ingredients and beat lightly to give a well-combined cake batter with a soft dropping consistency. Pour into the tin and level with the back of a spoon.
Pop into the oven to bake for 1 hour 15 minutes. Once cooked, the cake should be well risen and springy to the touch and a skewer inserted into the centre should come out clean. Remove and leave to cool in the tin for 10 minutes before popping it out and leaving to cool completely on a wire rack.
Meanwhile, to prepare the topping, beat the cream cheese, icing sugar and most of the lime zest together in a medium bowl until smooth. Cover and keep in the fridge to firm up a little until needed. Cut the reserved mango into long, thin slices for decorating. Toast the coconut in a small pan on a low heat until golden. Remove and leave to cool.
Sit the cake on a serving platter or cake stand, then spread the topping over. Sprinkle the toasted coconut all around the edge of the top of the cake. Arrange the mango slices in the centre of the top, sprinkle the reserved lime zest over and serve.
Be the first to add a review.