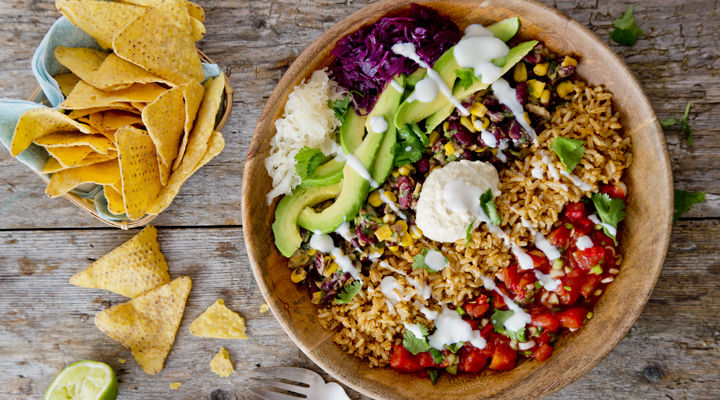 RECIPE OVERVIEW
Fab colours, easy to make and a real taste sensation.
Method
To prepare the rice, put the oil, spices, salt and chilli flakes in a small bowl and mix together with a fork. Put the cooked rice in a large bowl and give it a stir to ensure it's not all stuck together. Pour the spiced oil on top and mix it through, trying to coat the rice evenly. If you want to serve this hot, put everything in a large frying pan and heat it for a few minutes, stirring continuously. You may need to add another tablespoon of oil to stop the rice from sticking to the pan.
To make the refried beans, heat the oil in a frying pan over a high heat. Add the sweetcorn and garlic and cook for 3 minutes, until the corn starts to char slightly. Add the beans, coriander, lime juice, tamari or soy sauce and cumin, then take the pan off the heat. Once everything is mixed together, use the back of a wooden spoon to lightly mash the beans.
To make the salsa, simply put everything in a bowl and mix together.
To make the yogurt dressing, put the three ingredients in a small bowl and mix well with a fork.
When serving your bowl it works really well if you keep things slightly separate so that the bowl visually 'pops' and has more of a wow factor. Start by putting your rice, refried beans and salsa in the bottom of your bowl. Layer on some avocado slices, 1 to 2 tablespoons of hummus, 1 tablespoon of kimchi or sauerkraut (if using) and finally top with 1 tablespoon of sesame seeds. Serve with corn chips or tortilla crisps on the side.
Be the first to add a review.