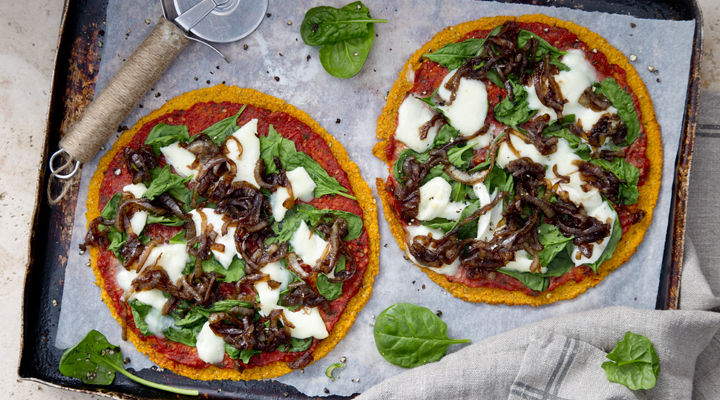 RECIPE OVERVIEW
This healthy alternative to pizza has a sweet potato base, caramelised onions, homemade tomato sauce, fresh mozzarella and spinach. 
Method
Preheat the oven to 180°C/gas mark 4. Line two large baking trays with non-stick baking paper and lightly oil the paper.
To make the base, blend the sweet potatoes and oats in a food processor, then add the eggs and blend again until smooth. Divide the mix evenly between the two trays and flatten into a thin round disc. Bake in the oven for 20 minutes, until slightly firm. Remove from the oven and carefully invert onto a plate, then slide the bases back onto the trays and return to the oven for a further 30 minutes, until golden brown and slightly crispy.
Meanwhile, to make the tomato sauce, put all the ingredients in a food processor and blend until smooth. Pour into a small saucepan set over a low to medium heat and simmer gently until the sauce thickens slightly. Remove from the heat and allow to cool.
To caramelise the onions, heat the oil in a medium-sized frying pan set over a low heat. Add the sliced onions and a generous amount of salt (the salt allows the onions to break down and soften faster). Gently fry for about 15 minutes, until golden brown. Pour in the vinegar and honey and cook for 3 to 4 minutes more.
Remove the pizza bases from the oven and add a generous amount of the tomato sauce to each one, spreading it around the base. Top with spinach leaves and mozzarella and scatter over the onions. Return the pizzas to the oven for 5 to 10 minutes, until the cheese is melted and bubbling. Allow to cool slightly before cutting into slices and serving.
Tip - You can also make mini pizzas, which are fun for parties and for younger kids who may prefer smaller portions. This pizza is also great with goats' cheese instead of mozzarella and the tomato sauce and onions can both be prepped ahead of time.
If you are coeliac, please refer to Coeliac Society Food List 2020.
Be the first to add a review.