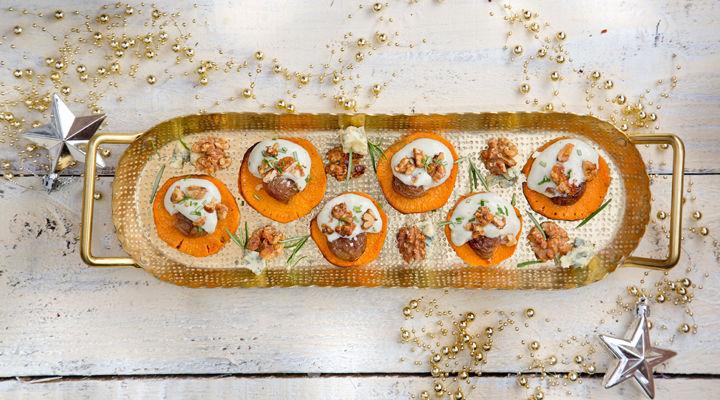 RECIPE OVERVIEW
At Christmas, I try to have healthier options, as a lot of food is so rich around Christmastime. These little bites are full of flavour and I love using sweet
potato instead of bread.
1

sprig

SuperValu Fresh Rosemary

leaves removed and finely chopped

100

g

SuperValu Goodness Walnuts

roughly chopped

500

g

SuperValu Red Grapes Seedless

3

-

Sweet Potatoes

long, thin in size, approx 5cm in diamter, cut into circles
Method
Preheat the oven to 220°C/gas mark 7. Line three large baking trays with parchment paper and set
aside. 
Slice the sweet potatoes to give you 50 x 1cm-thick slices. Spread out evenly on one of the lined
trays and brush with oil on both sides using 2 tablespoons of the olive oil. Roast in the oven for 40 to
45 minutes, until cooked through and golden. Turn them over halfway through for even cooking and
move the ones from the outside of the tray to the inside, as they will cook faster. Allow to cool.
Meanwhile, put the grapes on a second lined baking tray along with the remaining 3 tablespoons of
oil and the balsamic vinegar. Pop into the oven to cook for 30 minutes, until softened.
Toss the walnuts in the maple syrup and rosemary on the remaining lined tray. Roast in the oven for
8 to 10 minutes, until golden. Remove from the oven and allow to cool and harden, then roughly chop the nuts.
Roughly break up the blue cheese and put in a mini blender with the mayonnaise. Blend until smooth.
To serve, put the cooked and cooled sweet potatoes on a large serving platter. Top each one with a
smear of the blue cheese, some roasted grapes and a sprinkle of the chopped walnuts.
Tip: You can make the walnuts, blue cheese spread and roast grapes in advance, but make the sweet
potatoes on the day to keep them crisp and so that they don't discolour. The walnuts are also great
as a snack and the roast grapes would be good served on top of granola or porridge.
Be the first to add a review.