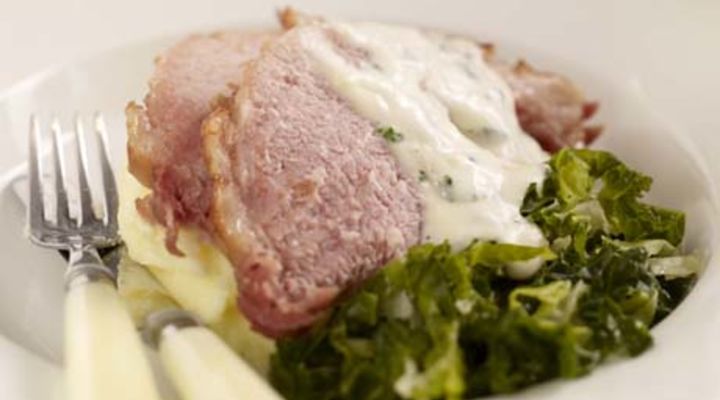 RECIPE OVERVIEW
This recipe is a fantastic way to cook bacon. Add leftover bacon to cooked pasta or use to make a delicious filling for a lunch time sandwich or bread roll
6

large

SuperValu Potatoes

750

g

SuperValu Quality Irish Unsmoked Back Bacon Joint 700g

1

-

SuperValu Savoy Curly Cabbage

Shredded
Parsley sauce
1

tbsp

SuperValu Fresh Parsley Flat Leaf

Chopped
Method
Preheat the oven to 190C/375F/Gas Mark 5.
Place the bacon into a large pot of water and bring to the boil. When the water comes to the boil reduce to a gentle simmer and continue to simmer for up to an hour or until the meat is cooked through.
Peel and boil your potatoes for 15 minutes or until tender, before mashing them with butter, salt and pepper.
Make your parsley sauce in the meantime. Start by gently heating the milk. In a separate medium sized saucepan, melt the butter and then add the flour.
Cook over a gentle heat until the mixture is yellow in colour and all the liquids have been soaked up. Slowly whisk in the warmed milk and whisk continuously until the mixture begins to thicken. Reduce the heat to a low heat and continue to simmer for 4-5 minutes. Season accordingly and add in the chopped parsley.
Once the meat is cooked, remove from the pot (retain the water) and place on a small baking tray, allowing it to cool down slightly.
Next place the shredded cabbage into the retained water and bring to the boil for approximately 10 minutes.
Using a sharp knife score the meat in a criss-cross pattern. Drizzle the honey over the top of the meat and then sprinkle the sugar on top. Bake in the preheated oven for 15-20 minutes until it has formed a nice crunchy crust.
Carve the bacon as required and serve with mashed potatoes and cabbage, covered with a generous pouring of parsley sauce.
Be the first to add a review.