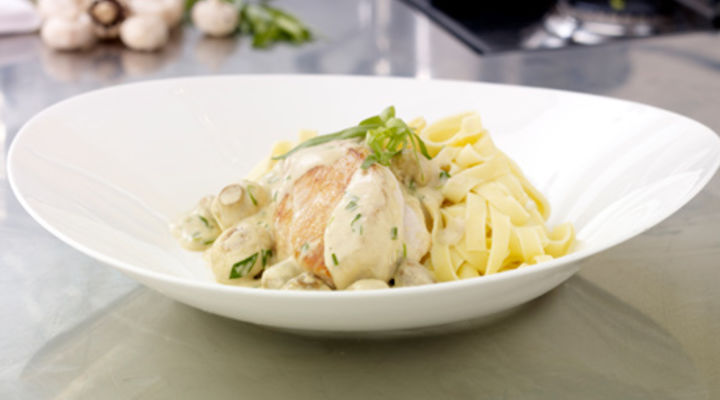 RECIPE OVERVIEW
A great dish! Stuffed Chicken Supreme With Mushroom Cream Sauce.
0

-

Mushrooms

selection of

0

-

SuperValu Dried Mixed Herbs

Selection of

2

g

SuperValu Fresh Breadcrumbs

2

medium

SuperValu Fresh Chicken Fillets

1

dstspn

SuperValu Tarragon

chopped
Method
 To make the stuffing melt the butter, add the onions and mixed herbs.
Combine with nice fresh breadcrumbs.
Stuff chicken breast.
Pass through flour, egg wash and breadcrumbs.
Shallow fry on each side and finish off in the oven for 45 minutes.
Serve with vegetables and potatoes of your choice.
For the Sauce
Put the milk in a saucepan and bring to the boil.
 Melt the butter slowly in another small saucepan.
 Add in the flour and mix until combined. Cook this mixture on a low heat for a few minutes to take the taste of the flour away.
 Gradually whisk in the boiling milk and continue to stir, especially around the edges, until it comes to the boil again and then turn the heat right down and cook on a low heat for 10-15 minutes.
In a separate pan fry the mushrooms in butter.
Add in chopped tarragon.
 Add the cooked mushrooms to the sauce together with the white wine.
 Serve as required.
Be the first to add a review.