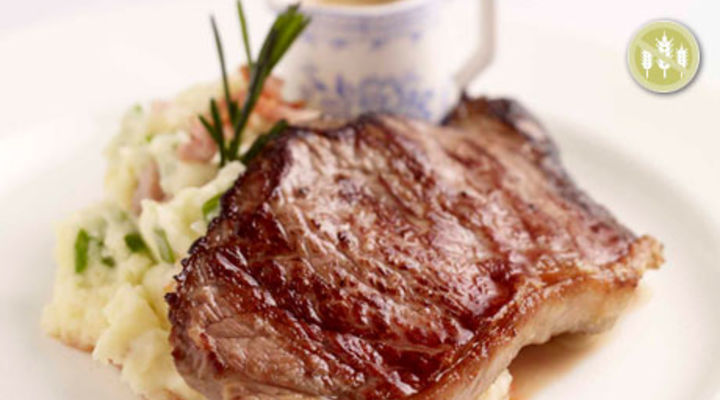 RECIPE OVERVIEW
A perfect meal for two.
Method
Striploin Steaks
Lay the steaks out flat in a large dish and scatter the dry ingredients over the steaks. There is no need to peel the garlic-just chop it up quite roughly.
Cover with the olive oil and leave to rest for at least a couple of hours. Because this is a mildly flavoured marinade you can leave it for up to 2-3 days.
Heat the pan and cook as follows:
Rare- 2 minutes on either side,
Medium- 4 minutes on either side,
Well done- 5 minutes on either side.
Try not to over agitate the meat whilst it is on the pan, instead turning it just once.
Smoked Bacon Champ
Heat a small pan and fry the diced bacon until nice and crispy.
Warm the butter and milk in the microwave or in a small saucepan.
Peel, boil and mash the potatoes using the warmed milk and butter (and a little cream if desired) until they are quite smooth and of a piping consistency. Add in the smoked bacon and chopped scallions and mix well. Keep warm until required.
Pepper Cream Sauce
When you have removed the steak from the pan, add the pouring cream and the cracked black pepper to the same pan and whisk well.
Allow the sauce to simmer for 4-5 minutes. Serve on top of the steaks and bacon champ, with some steamed green vegetables.
And for the perfect Valentine's dessert, why not try my Chocolate fondue