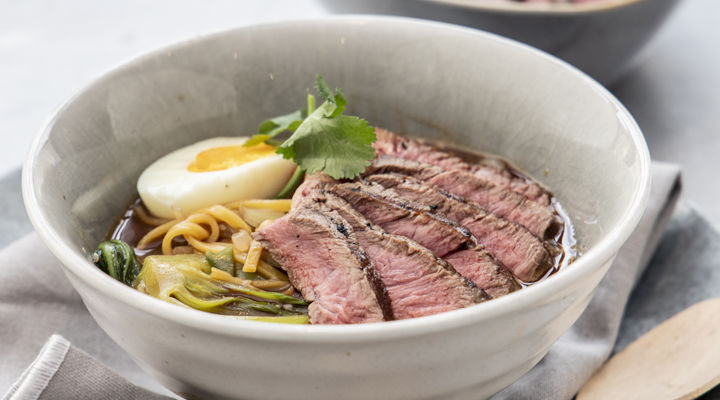 RECIPE OVERVIEW
Kevin's Striploin Beef Ramen is packed full of flavour.
2

clove

Garlic

finely chopped

200

fillets

Signature Tastes Mushroom Medley

sliced

4

cm

SuperValu Fresh Ginger

sliced

100

g

SuperValu Mangetout

300

g

Supervalu Signature Tastes Striploin Steak

fat trimmed and thinly sliced
Method
1. In a large saucepan add the beef stock, miso paste, soy sauce, oyster sauce, garlic,water, ginger and star anise. Bring to the boil and simmer for 15 minutes to infuse the flavours.
2. Meanwhile, slice the beef into very thin strips. 
3. Next, add the mushrooms, pak choi and mange tout into simmering stock and cook for 2-5 minutes, covered, until pak choi pieces are tender.
4. Meanwhile, in a separate saucepan, bring to boil some water and gently drop the egg. Boil for 4 to 5 minutes. Remove with a slotted spoon and place in a bowl of cold water. Once cool enough to handle peel eggs and cut into halves.
5. At the last minute, remove fat and thinly slice the striploin beef and add to the simmer stock and add noddles and allow them to cook.
6. Bring to simmer and cook for 2-3 minutes until just warmed and the beef cooked to your liking. Add lime juice and sesame oil and check the seasoning.
7. Divide noodles among bowls and ladle the broth with the vegetable and beef mixture. Add the halved eggs into bowls.
8. Serve with a sprinkle of sesame seeds, coriander and Sriracha sauce.
Be the first to add a review.