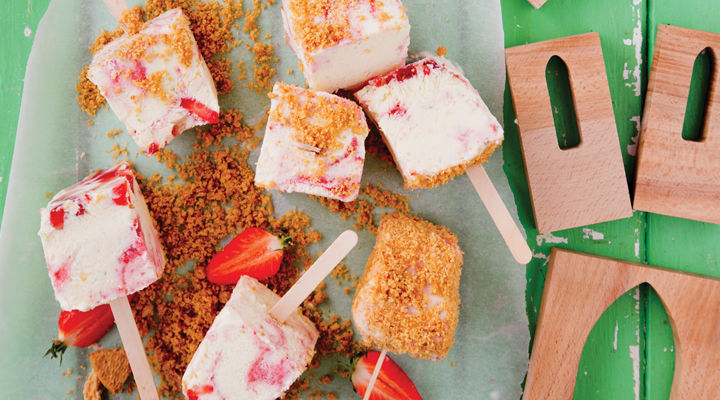 RECIPE OVERVIEW
These ice pops can be made in a 12-cup mufin tin lined with paper cases. Stir 50g of melted butter into the biscuit crumbs, sprinkle an even amount in the bottom of each case and set in the fridge. Ripple the strawberry purée into the creamy filling and divide it evenly amongst the cases. Freeze for about 4 hours until set.
1

-

Lime

finely grated zest only

280

g

Low Fat Cream Cheese

1

tbsp

Olive Oil

for greasing

225

g

SuperValu Strawberries

hulled
Method
Grease the loaf tin and line with a double layer of cling film, leaving the excess hanging over the edges.
Chop 100g of the strawberries into small dice and scatter them evenly in the base of the tin. Blitz the remaining 125g in a mini blender until smooth.
Beat the cream cheese in a large bowl to loosen it, then beat in the condensed milk and lime zest until well blended. Beat the cream in a separate bowl to give soft peaks. Fold the whipped cream into the cream cheese mixture until smooth and well blended. An electric mixer will make easy work of this, but it can be done by hand if necessary.
Pour about half of the creamy mixture into the loaf tin. Drizzle over half of the strawberry purée and ripple it through with a small spoon. Repeat with the remaining creamy mixture and strawberry purée on top.
Image a line running down the centre of the ice cream loaf, then imagine that divided into halves and then quarters. Stand an ice pop stick into the mixture at the centre point of each of the imaginary eight portions. Carefully cover with the excess cling film and transfer to the freezer for at least 8 hours or overnight, until solid.
Blend the biscuits in a food processor or seal in a food bag and bash with a rolling pin until you have fine crumbs.
When the ice pops are ready to serve, use the excess cling film to lift the whole thing out onto a board. Leave at room temperature for about 20 minutes to make it easier to cut. Cut between the sticks to make eight individual pops. Dip each pop into the biscuits to coat. Enjoy straight away or wrap individually in parchment paper and store sealed in a food bag or container in the freezer.
Be the first to add a review.