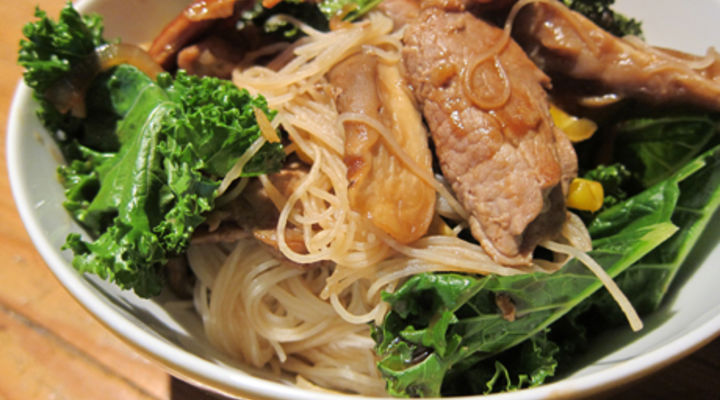 3

cm

SuperValu Fresh Ginger

cut into julienne (matchsticks)

2

cloves

SuperValu Garlic

crushed

150

g

SuperValu Kale

(or SuperValu Cabbage), sliced

1

tbsp

SuperValu Olive Oil

1

-

SuperValu Onion

thinly sliced

450

g

SuperValu Quality Irish Eye of Pork Loin

finely sliced

100

g

SuperValu Sweetcorn 326g

0

-

Vermicelli Noodles

to Serve
Method
Heat the oil in a wok or large frying pan, then add the pork and fry over a high heat for 2 - 3 minutes until browned.
Using a slotted spoon remove the pork from the pan and set aside and cover with foil to keep warm.
Next add the onion, garlic, ginger and mushrooms, and stir-fry for 1 - 2 minutes, then add the sweetcorn and season with a little salt and pepper.
Cook for a further 2 - 3 minutes, then return the pork to the pan and stir in the black bean sauce. Add a couple of tbsp on water if the sauce needs to loosen.
Next add the chopped kale, cook for 3 minutes until the sauce is bubbling then reduce the heat whilst you prepare the noodle.
Cook the noodles as per pack instructions, drain and place in a large serving bowl. Pour the contents of the pan over the noodles and garnish with some fresh herbs or spring onions if desired.
Serve immediately.
Be the first to add a review.