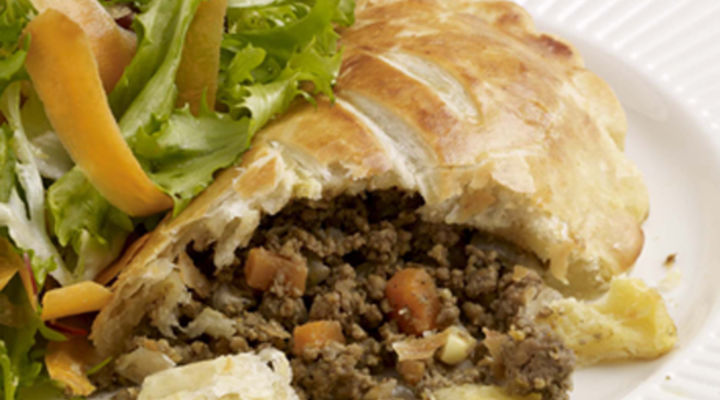 RECIPE OVERVIEW
The beauty of this recipe is that the pies can be made up in advance and used as required.
Method
Preheat the oven to 190°C/375°F/Gas Mark 5
Begin by preparing the curried lamb filling for the pastries
Heat a wide based deep pan with a little oil and add the diced carrot, garlic, onion and mushroom and sauté gently for a couple of minutes until they have softened
Add in the minced lamb and the mixed herbs and continue to cook, uncovered, over a medium heat until the lamb is browned off. At this stage the mixture should look quite juicy
Sprinkle in the curry powder and stir carefully, ensuring that lumps do not form. Continue to cook for a further 4-5 minutes
Allow the mixture to cool down completely and then mix in the natural yogurt
Short Crust Pastry
Sieve flour and salt into a large mixing bowl
Add in the butter and using your finger tips, rub in the butter until the mixture resembles fine breadcrumbs
Stir in enough cold water to bind the mixture together
Kneed lightly on a floured work surface to bring the pastry together and then transfer the pastry to the fridge to chill for at least 30 minutes
After this, roll out the pastry on a lightly floured work surface
Using a large cutter cut out 4 discs (approximately 4 or 5 inches)
Mix together the egg and milk and brush the surface of the pastry disc with the beaten egg wash
Next place some of the curried lamb mixture on one side of the pastry disc
Fold over the pastry to make a semi circular shape
Use a fork dipped in flour to press the edges closed tight
Place the pastries onto a baking tray lined with baking parchment and brush the entire surface of the pastry with the beaten egg wash, which will help to colour the pastry
Bake for approximately 20 minutes in the preheated oven until the pastry has turned crisp and golden brown
Place the crunchy salad in a large bowl, drizzle with the olive oil and mix well
Serve with the curried lamb parcels
Top Tip
With this recipe you could make mini pastries as well by cutting the discs into much smaller pieces.