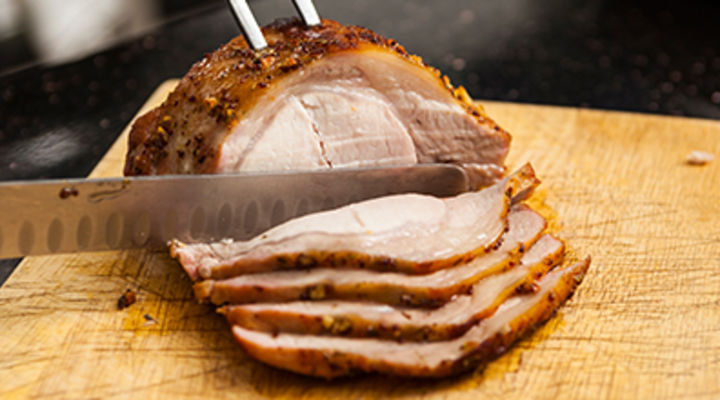 RECIPE OVERVIEW
Slow roasted marinated pork with a carrot & parsnip puree.   
Method
Preheat the oven to 180°C/350°F/Gas Mark 4.
Begin by making the marinade. In a separate bowl mix together the honey, mustard, mixed herbs and crushed garlic.
With a sharp knife, score the fat of the pork in a criss cross fashion.
Place the pork on a baking dish and spoon the marinade on top and spread over the pork.
Put in the oven for approximately 20 minutes.
After 20 mins remove the baking dish, cover with tin foil and return to the oven for 40-45 minutes.
Allow the meat to rest for a few minutes before slicing thinly.
Carrot & Parsnip Purée
Place the carrots & parsnips into a medium sized saucepan of cold water and allow them to come to the boil.
Reduce the heat to a gentle simmer and continue to cook until the vegetables are tender.
Strain off the water, add the butter together with the salt and pepper and cover with a tight fitting lid for 5-6 minutes.
Mash well or alternatively you can transfer the entire mixture to a food processor to purée.
Taste the purée and correct the seasoning as, and if required.
Roasted Potatoes
Peel the potatoes and cut them into chunks and place them in a large mixing bowl with the oil and seasoning.
Place them on a baking tray lined with baking parchment and bake in the preheated oven for 30-35 minutes.
Top Tip
Covering the entire baking dish during the cooking process is an effective way to cook the pork sufficiently without drying it out.  
Be the first to add a review.