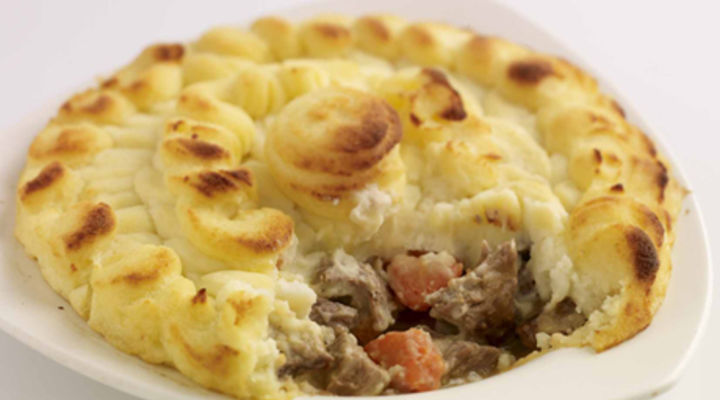 RECIPE OVERVIEW
For these colder months, this classic one pot wonder will provide both warmth and sustenance.
4

large

SuperValu Potatoes

510

g

SuperValu Quality Irish Diced Beef

1

tsp

SuperValu Tomato Purée
Method
Preheat oven to 200ºC/400ºF/Gas Mark 6.
Begin by dicing the carrots and onions, and cutting the mushrooms into quarters.
In a large saucepan heat a little oil, then add in the beef and seal quickly on the pan until it is browned all over. Next add in the onions, mushrooms, and carrots and cook these with the beef for 4-5 minutes-this will give a nice roasted flavour to the vegetables. Add in a little seasoning to the beef and vegetables.
Next mix in the tomato puree and coat all of the beef & vegetables with this. Sprinkle in the plain flour, this will create a skin like surface on the mixture and also act as the main thickening agent in the sauce.
Carefully pour in the beef stock into the pan and allow the mixture to come to the boil. Simmer for 1½ hours on a very low heat. Transfer the mixture to a casserole dish and allow to cool slightly.
Meanwhile peel the potatoes and place them into a medium sized saucepan and allow them to come to the boil. When the potatoes are tender strain them off and allow them to steam for a few minutes.
Mash the potatoes with a little salt, pepper and the butter. Mix in the egg yolk and pipe on top of the beef casserole. Transfer to the oven and bake for a further 25-30 minutes until the beef is piping hot. Serve immediately.
Be the first to add a review.