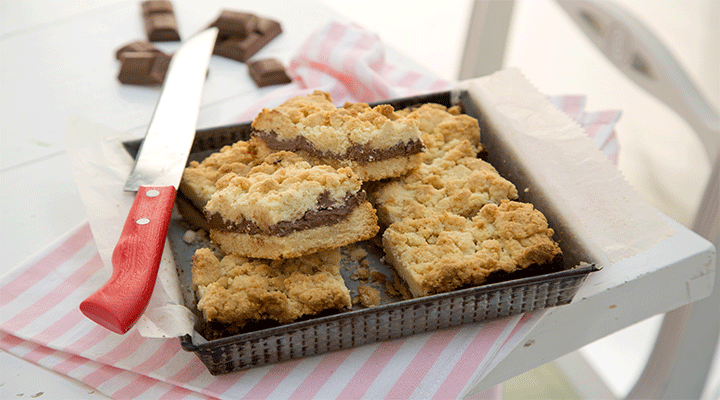 RECIPE OVERVIEW
These moreish bars have a beautifully short and buttery biscuit with the added delight of a chocolate centre. 
300

g

SuperValu Ground Almonds
Method
Preheat the oven to 180°C/gas mark 4. Grease a 20cm square baking tin with butter and line with non-stick baking paper.
Place the ground almonds, flour, sugar and salt in a food processor and pulse together. Add the butter and blend briefly to form coarse crumbs. Tip half of the mixture into the baking tin and press it down to form an even, firmly packed layer. Placing a sheet of parchment paper over it and pressing it down with the base of a glass will make an easy job of this (just remember to remove the paper afterwards!). Reserve the remaining crumble mixture in the fridge.
Bake the base for 15 to 20 minutes, until lightly golden all over. Remove and sprinkle the chopped chocolate over in an even layer. Scatter the remaining crumble mixture evenly on top, pressing it down lightly. Return to the oven to bake for about 20 minutes, until the topping is light golden brown.
Remove and leave to cool a little in the tin before lifting out and leaving to cool completely. Cut into 12 bars or 16 smaller squares and enjoy. These will keep for up to three days, layered between parchment paper, in an airtight container in the fridge. 
TIP: Instead of chocolate, spread 250g of fresh raspberries, which have been crushed, over the base. The finished bars will be a little moister than the chocolate ones because of the raspberries, but just as lovely. Jam or caramel would also work well as a topping instead of the chocolate.
Be the first to add a review.