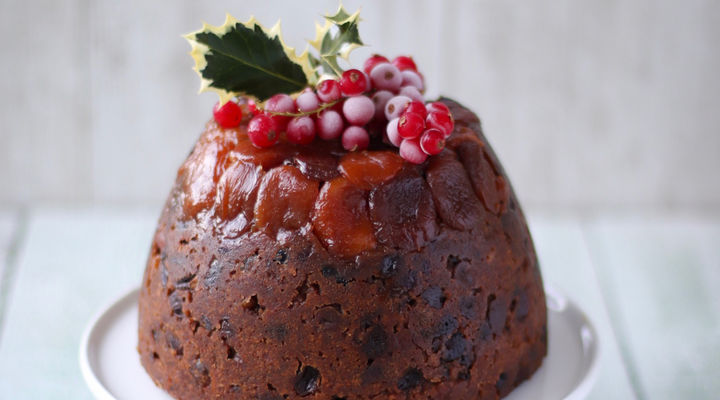 RECIPE OVERVIEW
This is a twist on a traditional pudding, with the addition of fresh carrot and apple for extra fruitiness and moisture. The apricot design on top adds an extra layer of specialness to the special occasion that is Christmas. Making the pudding as far in advance as possible (up to one year even!) will ensure a really fruity and mature flavour.
100

g

Carrots

Finely Grated

175

g

Light Muscovado Sugar

1

pinch

Nutmeg

Freshly Grates

1

-

Redcurrants

One String to Decorate

150

g

SuperValu Cooking Apple

Roughly Grated

1

-

SuperValu Lemon

Finely Grated Zest

1

tsp

SuperValu Mixed Spice

1

-

SuperValu Orange

Finely Grated Zest

525

g

SuperValu Signature Tastes Luxury Fruit Mix

175

g

Unsalted Butter

Plus Extra For Greasing

50

g

Whole Blanched Almonds
Method
Please allow time to soak your pudding overnight.
1. Starting the day before you intend to cook the pudding, pop the butter in the freezer to solidify.  
2. Place the mixed fruit, apple, carrot, cherries, mixed peel, almonds, orange and lemon zest and brandy in a large zip lock food bag. Seal well and toss until evenly mixed. Leave to soak overnight, tossing the contents occasionally if possible.
3. Grease a 1.7 litre pudding basin with butter and line the base with grease proof paper. Arrange the apricots in a circular pattern in the base of the bowl to cover it completely, then arrange a layer of them in a row to just come up the side.
4. Toss the sugar, breadcrumbs, flour and spices together in a large bowl. Add the soaked fruit mixture and eggs. Grate in the frozen butter and mix everything together until well combined. Spoon into the prepared basin, being careful not to move the apricots. Press each spoonful down and against the sides well so as not to leave any gaps as you go. 
5. Place a disc of baking parchment paper on top, then lay a large piece of baking parchment on top of the same size piece of tin foil. Grease the middle of the parchment with butter. Make a fold of the two of them together through the centre. Turn this parchment side down onto the top of the bowl to cover the pudding and secure all around the sides with string. Make a string 'handle' from side to side to help you lift the pudding out of the pan later on. 
6. Place an upturned heatproof saucer in a large, deep pan and lower the pudding in on top. Pour enough water in to come halfway up the sides of the pudding. Pop a tight-fitting lid on top and simmer for 6 hours, topping up with water as needed.
7. Remove and leave to cool completely. Remove the outer coverings and wrap the basin tightly with a double layer of cling film. Stored in a cool, dry place, this will keep for up to one year.
8. To serve, steam the pudding as before but for 1 hour to warm through. Turn out onto a serving plate or cake stand to reveal the apricots. Decorate with a string of redcurrants and serve with custard, brandy butter and/or softly whipped cream.
Tip: Alternatively, you could steam the pudding in the oven in a roasting tin that has been half-filled with water. Cover with a large tent of tin foil and bake for 6 hours at 160°C/gas mark 3, topping up with water as necessary.
Be the first to add a review.