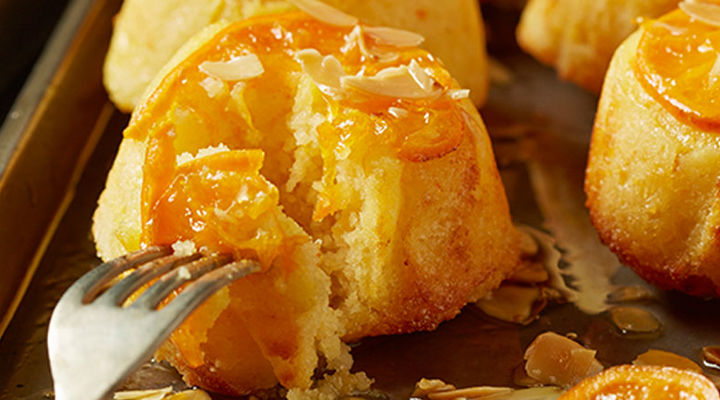 RECIPE OVERVIEW
These semolina cakes resemble a traditional cake served as a tea-time treat or dessert in Egypt. ClemenGold juice, a slice of the citrus on top and almonds, give these bakes a wonderful flavour. 
2

-

Fresh Egg

extra large

1

-

SuperValu Signature Tastes Clemengold

rind (finely grated)
Syrup
50

g

SuperValu Goodness Flaked Almonds

roasted (see tip)

200

ml

SuperValu Signature Tastes Clemengold

juice

2

-

SuperValu Signature Tastes Clemengold

with the skin, cut in thin slices
Method
Syrup: Place sugar and juice in a small saucepan and stir over a medium heat until the sugar dissolves. Bring to the boil, reduce the heat and simmer 2-3 minutes or until a thick syrup forms. Remove from the heat and place ClemenGold slices in the hot syrup. Set aside and allow to cool. Stir in the rose water with the almonds.
Cake: Preheat the oven to 180 °C and line 8 individual cake tins or holes of a muffin pan with a piece of baking paper.
Beat butter and sugar in a large bowl with an electric beater until light and fluffy. Beat in ClemenGold rind and vanilla. Add eggs, one at a time, beating well after each addition.
Stir in the semolina and baking powder. Stir in the yoghurt to form a smooth batter.
Place a syrup-soaked ClemenGold slice at the bottom of each cake tin or muffin hole. Spoon batter on top. Bake 20-25 minutes or until a skewer comes out clean.
Prick the cakes with a fork and spoon some of the cold syrup over the hot cakes. Allow to stand in the pan for a few minutes. Turn cakes out and carefully remove the papers.
Place on a serving plate. Pour the rest of the syrup and nuts over the cakes. Allow to stand for a few minutes before serving.
Tips
1. To roast your own nuts, place in a dry frying pan and toast over a medium heat until golden brown. Take care not to burn them.
2. Substitute almonds with roasted pistachio nuts, or a mixture of the two.
3. These cakes are delicious served with Greek yoghurt.
Be the first to add a review.