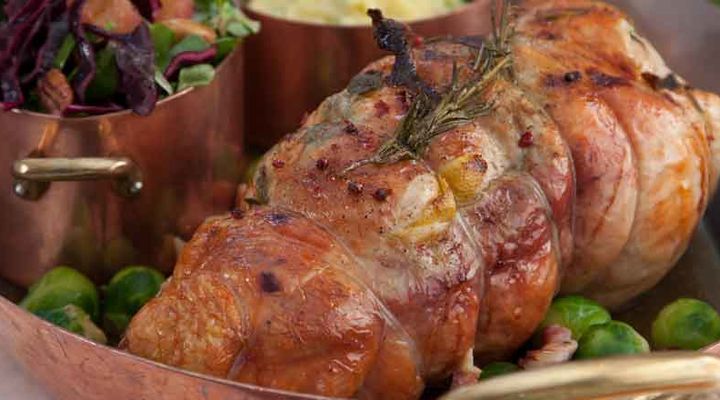 RECIPE OVERVIEW
An entire turkey isn't always suitable for a small celebratory dinner, so this luxury-for-less option will save on the pennies but you won't lose any of the great flavours.
400

ml

Chicken Stock Cube

4

sprigs

SuperValu Fresh Rosemary

2

sprigs

SuperValu Fresh Sage

chopped

1

-

SuperValu Turkey Breast

2kg to 3kg
Method
Preheat the oven to 220°C/gas mark 7.
Butterfly the breast so that the meat is an even thickness. Finely chop the leaves of one rosemary sprig and scatter them over the turkey meat along with the crushed garlic, lemon zest, sage and seasoning, then roll up the turkey to form a long roll. Use toothpicks or wooden skewers to hold it in place.
Tie the turkey with kitchen twine every 5cm. Drizzle with the olive oil and spread the softened butter over the skin, then season well with salt and pepper. Tuck the remaining three rosemary sprigs along the top of the roll under the twine. Weigh the joint and calculate the cooking time, allowing 15 minutes per 450g plus 20 minutes. Place the turkey into a roasting tin and pour over the chicken stock and wine.
Cover the turkey completely with foil and seal it well under the rim. Roast the turkey in the oven for 20 minutes, then lower the temperature to 200°C/gas mark 6 and continue to cook the joint for the remainder of the cooking time, uncovering the turkey for the last 15 to 20 minutes to brown the skin.
To check that the turkey is cooked, push a fi ne skewer into the centre of the meat. If the juices run clear, it's cooked. If not, return it to the oven for 10 to 15 minutes, until the juices do run clear.
Lift the turkey joint onto a board, tent with foil and leave it to rest for 10 minutes. Use the roasting tray to make the gravy (see the recipe on page 7.
Serve slices on a platter and garnish with salad and the usual sides of stuffing, vegetables and sauces.