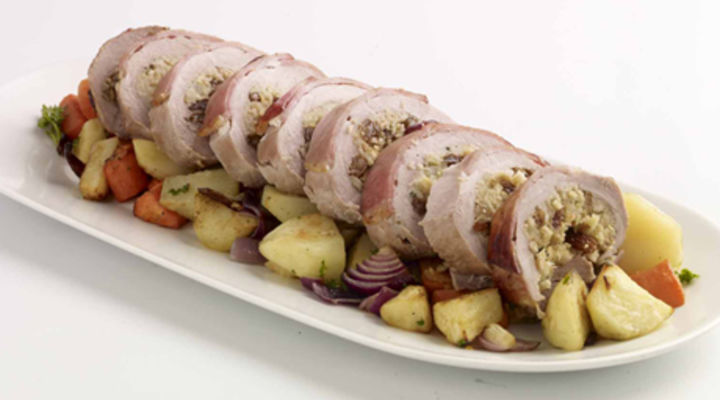 RECIPE OVERVIEW
This roast stuffed pork is one of my favourites and never fails to impress.
Method
Heat a small saucepan with the butter. Add in the diced onion and saute gently for 2-3 minutes. Next add in the sultanas & grated apple.
Add in the breadcrumbs and seasoning and mix well. Allow the stuffing to cool down completely.
Preheat the oven to 190°C/375°F/Gas Mark 5.
Clean the pork steak well, making sure to remove any sinew or fat. Make a horizontal slit in the pork steak to open it up - make sure not to cut all the way through. To flatten out, make a few slits in the pork steak and use a rolling pin to help you flatten it sufficiently. Place the stuffing along the previously flattened pork steak and roll it up tightly.
Secure the rolled pork with string or alternatively you could secure it with cocktail sticks or if desired 3 rashers of bacon. Place in a roasting tray and drizzle with a tiny bit of oil and cover the meat loosely with a little tin foil.
Roast in the oven for 45-60 minutes. Remove the tin foil for the last 15 minutes of the cooking process. Allow the meat to rest for at least 10-15 minutes before slicing.
Roasted Vegetables & Potatoes
Arrange all of the vegetables in a large roasting tray. Drizzle with a little oil, season with salt and pepper and roast for 45 minutes. Serve immediately with the roast pork.