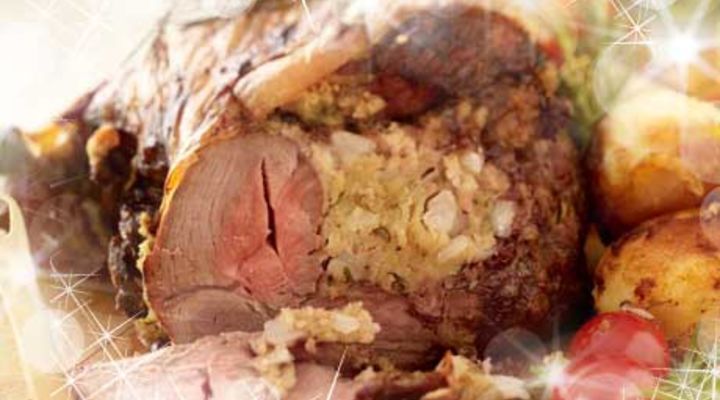 500

ml

Chicken Stock Cube

warmed

2

sprigs

SuperValu Fresh Rosemary

1

-

SuperValu Fresh Thyme

2

cloves

SuperValu Garlic

3

-

SuperValu Garlic

crushed

4

-

SuperValu Onion

sliced

1

kg

SuperValu Quality Irish Leg of Lamb

1

-

SuperValu Swede

peeled, halved and thinly sliced

0

-

SuperValu Whole Black Peppercorns
Red Wine Reduction
1

tsp

SuperValu Fresh Rosemary

chopped

1

tsp

SuperValu Olive Oil
Method
Preheat the oven to 200C/400F/Gas Mark 6.
Place the leg of lamb in a large roasting tin,. Cut some deep incisions into the lamb and insert slices of garlic and small rosemary sprigs into the incisions. Season well with salt and freshly ground black pepper. Place the lamb into the top rack of the oven and the potatoes into the shelf below, cook for 1 ½ - 1 ¾ hours, the remove from the oven and allow the lamb to rest.
Meanwhile in a pan, over a medium heat, melt the butter and add the onion and season with salt and pepper, . Pan fry for 3 – 4 minutes until caramelized. Remove from the heat. In an ovenproof dish place a layer of turnip, then add a layer of the caramelized onions, season lightly with salt and pepper and few sprig of thyme. Continue to layer turnip and onions and seasoning, finishing with a layer of turnip. Pour the warm stock over the vegetables and place in the oven, sprinkle the butter on the dish and bake 1 hour to 1.30 in the preheated oven at 200 °C / 400˚F.
In a small saucepan over a medium heat, sauté the shallots in the olive oil until they are translucent but not browned. add the red wine, beef stock, seasoning and rosemary and cook until the liquid has reduced by half. add the butter to the sauce to create a glossy finish.
Serve immediately with the lamb and potatoes.
Be the first to add a review.