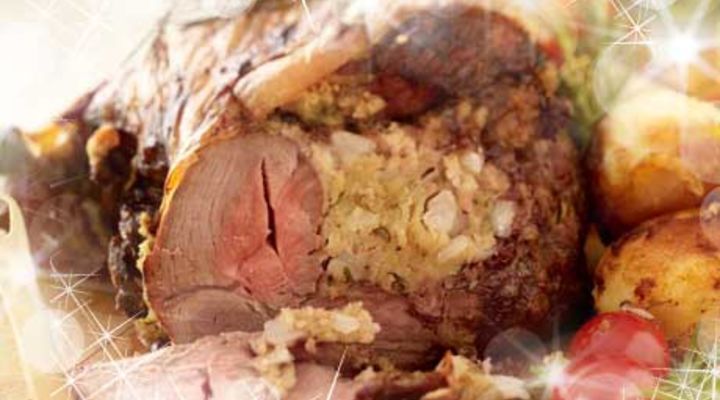 RECIPE OVERVIEW
This lamb has a long cooking time but it is worth the wait. A gorgeous meal idea for any dinner party.
300

ml

Chicken Stock Cube

175

g

SuperValu Fresh Breadcrumbs

4

tbsp

SuperValu Fresh Parsley Flat Leaf

chopped

50

g

SuperValu Fresh Rosemary

1

tbsp

SuperValu Fresh Thyme

2

cloves

SuperValu Garlic

crushed

1

large

SuperValu Onion

finely chopped

0

-

SuperValu Quality Irish Leg of Lamb

boned with shank end left intact
Method
Preheat the oven to 190°C/375°F/Gas 5.
To make the stuffing, melt the butter in a large frying pan and sauté the onion for 3-4 minutes until softened but not coloured.
Add the garlic and cook for another minute or so, stirring. Stir in the thyme, parsley and breadcrumbs and season to taste. Allow the stuffing to cool down at this stage.
Press the stuffing into the tunnel of the lamb leg and season the joint all over. Arrange the herb branches around the outside of the lamb and tie to secure with string.
Place the lamb joint in a roasting tin, cover loosely with foil and roast for 2 hours, then remove the foil and baste well. Roast for another 30 minutes until just tender.
If you like your lamb more well done, giveit another 30 minutes cooking time.
To check that it is cooked to your liking, insert a skewer into the thickest part of the meat and then watch the juice run out – the pinker the juice, the rarer the meat.
When it is cooked to your liking, transfer to a carving platter and leave to rest in a warm plate for 30 minutes.
To make the gravy, place the roasting tin directly on the hob and stir in the flour.
Cook for 1 minute, stirring continuously, then gradually add the stock, whisking until smooth after each addition and scraping the bottom of the tin to remove any sediment.
Transfer the gravy to a small pan and whisk in the redcurrant jelly, thensimmer gently until you have achieved the desired consistency.
When the lamb is rested, carefully cut away the herb branches and string and then carve into slices, holding the shank end of the bone.
Be the first to add a review.