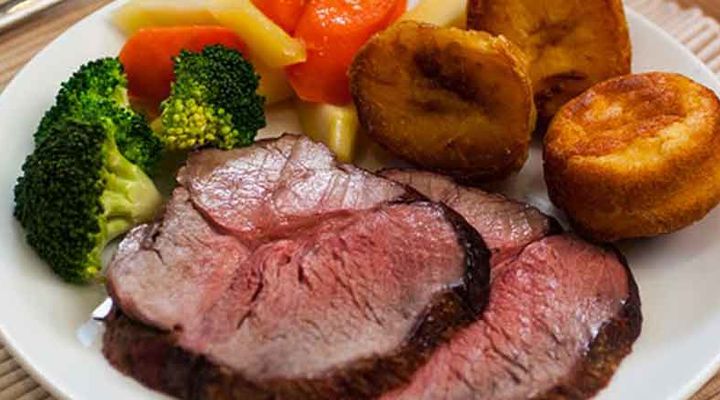 RECIPE OVERVIEW
Roast beef, Yorkshire Puddings & Honey Glazed Carrots & Parnips
Method
Preheat the oven to 200°C/400°F/Gas Mark 6.
Drizzle some oil into a large frying pan over a high heat, seal the beef on all sides then remove and place on a roasting tray.
Cover the entire tray with tin foil and place in a preheated oven and after 20 minutes reduce the heat to 160°C/325°F/Gas Mark 3.
Cook for 1½ hours.
In the meantime, prepare the batter for the Yorkshire puddings.
Sift the flour and salt into a large mixing bowl.
Add the eggs and milk and mix until a nice smooth batter is achieved.
When the beef is removed from the oven to rest, increase the oven temperature to 200°C/400°F/Gas Mark 6.
Put one dessertspoon of sunflower oil into each cup of a 12-cup muffin tray and heat in the oven until the oil is very hot and spitting.
Being very careful, remove the tray from the oven and divide the batter between the cups of hot oil.
Return to the oven for 20-25 minutes, ensuring the oven door is kept closing during the first ten minutes of cooking, and cook until the batter has puffed up and become golden brown.
To make the gravy, remove the fat from the juices with a spoon then add the flour to the cooking juices in the roasting tin and stir over a direct heat, reduce the liquid by half. Whisk in the beef stock and chopped herbs.
Cook over a high heat for 6-7 minutes to reduce again, then pour into a warmed sauce boat.
Roast Potatoes
Peel the potatoes and cut into large chunks.
Place in a large saucepan and barely cover with water, parboil for 10 minutes until slightly tender then drain the potatoes and place on a separate roasting tray.
Season with some salt and freshly ground black pepper and drizzle with some olive oil.
Place the potatoes into the oven at the same time as the Yorkshire puddings.
Honey Glazed Carrots & Parsnips
Bring the carrots and parsnip to the boil in lightly salted water.
When the carrots & parsnips are cooked drain off the water and add the butter, orange juice, honey and seasoning.
Place on a gentle heat for a further moment or two until all of the glazed vegetables are piping hot.