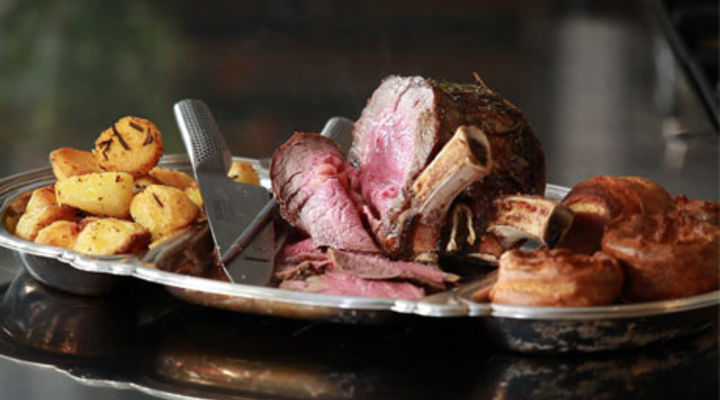 Method
Yorkshire Pudding
Preheat the oven to 190C/375F/Gas Mark 5.
Place the beef on a roasting tray with a little garlic and a little oil. Season with some salt and pepper and place in the oven to cook for 1 – 1 ½  hour. After this stage remove the beef from the oven and allow to rest for at least 15 minutes. The beef at this stage should be medium.
Sieve the plain flour into a large mixing bowl and add in a pinch of salt and pepper.
Whisk the eggs and milk together and add this to the plain flour and whisk until a smooth batter has been achieved. Allow to rest.
Meanwhile heat a 12 cup muffin tray in the oven having first ¼ filled the cups with vegetable or sunflower oil (ie-about a dessertspoon in the bottom of each) and allow this to heat for 5-10 minutes until the oil is sizzling. About 20 minutes before you are ready to serve you need to divide the batter between the muffin tin and transfer to the oven to cook for 15- 20 minutes until the puddings are well risen and golden brown.
Gravy
Remove the joint of meat from the roasting tray and place the tray on direct heat.
Add in the flour and whisk until the mixture becomes dry and lumpy in consistency.
Whisk in the red wine and chicken stock slowly.
Strain through a fine sieve into a clean saucepan and continue to cook for 10 minutes.
Serve drizzled over the beef.
Roasted Potatoes
Put the potatoes into a small saucepan, covered with water and bring to the boil.
Reduce the heat and simmer for 10 minutes.
Place the fat on a roasting tray and place the tray in a hot oven (190C/375F/Gas Mark 5) for a few minutes to melt the fat.
Strain the potatoes and give them a little shake.
Add the flour to the potatoes at this stage and coat the potatoes in the flour.
Add the potatoes to the hot fat and cook for 35-40 minutes.
Be the first to add a review.