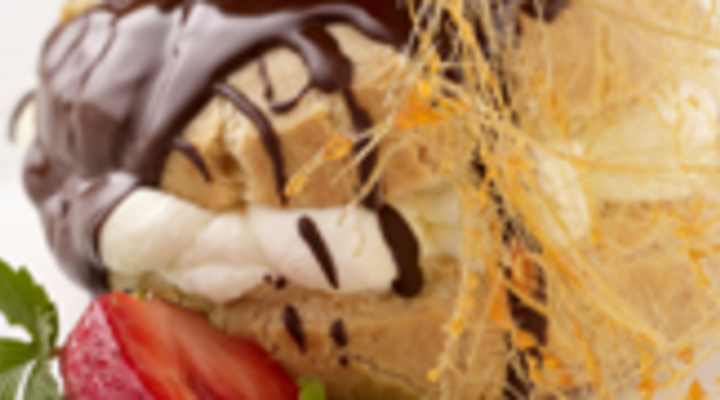 RECIPE OVERVIEW
These profiteroles are sure to impress at any dinner party and are also perfect fto sweeten up your summer picnic.
Ingredients
Chocolate Ganache
150

g

Dark Chocolate




250

mls

Fresh Cream


plus a little extra if needed
For the Choux Pastry
5

-

Fresh Egg




125

ml

Milk




275

g

Plain Flour




5

g

SuperValu Salt




10

g

SuperValu Sugar




112

g

SuperValu Unsalted Irish Creamery Butter 227g




125

ml

Water



Pastry Cream / Créme Patissiere
140

g

Caster Sugar




4

-

Fresh Egg




500

g

Milk




60

g

Plain Flour




1

-

Vanilla Essence



Method
Firstly, prepare the pastry cream. Beat the egg yolks in a bowl with the sugar then sift in the flour. Pour the milk into a sauce pan and add the vanilla extract, bring to the boil then pour over the egg mixture and whisk to combine. Pour the egg and milk mixture back into the milk saucepan and bring back to the boil, stirring continuously for 3 – 5 minutes until thickened. Set aside to cool down.
In the meantime, preheat the oven at 170°C.
Sift the flour into a bowl. Pour the milk and water into saucepan and add the butter. Bring the mixture to the boil Remove from the heat and immediately add the flour and stir vigorously. Return to a low heat and continue stirring until all the flour has been incorporated and the mixture leaves the sides of the saucepan and forms a smooth ball, approximately 5 minutes. Remove the mixture into a bowl, and immediately add the eggs one at a time beating thoroughly after each addition, beat until smooth and glossy.
Fill a piping bag set with a large nozzle and pipe onto trays lined with parchment paper. Pipe out large choux (6cm diameter) and a small one (3 cm diameter). Place in a preheated oven for about 35 minutes then reduce the temperature to 150°C with the door slightly ajar until they are golden brown. Leave to cool on a rack.
Melt the chocolate in a bowl over a pan of boiling water. In a separate saucepan bring the cream to the boil, then pour the cream over the melted chocolate, stirring until a glossy sauce has been achieved. Add a knob of butter for extra sheen if required.
When the choux and the cream have completely cooled down, pierce the base of the choux with a skewer and pipe in the pastry cream. Drizzle with some chocolate sauce.
Be the first to add a review.