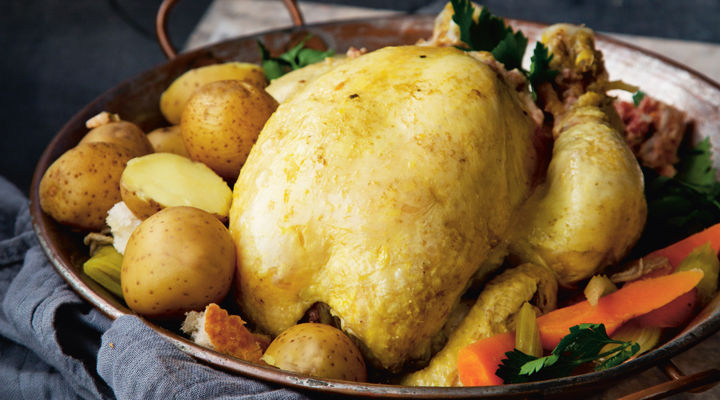 RECIPE OVERVIEW
Its rich flavours make it a firm favourite as a family meal any day of the week, but its also ideal for a dinner party.
3

-

Celery

stalks, chopped

1

-

Chicken Livers

finely chopped, optional

2

L

Chicken Stock Cube

cold

2

medium

Leek

halved and cut into pieces 6cm long

1

-

Onion

peeled and studded with 6 cloves

2

tbsp

SuperValu Fresh Flat-Leaf Parsley

copped, plus extra to garnish

2

sprigs

SuperValu Fresh Flat-Leaf Parsley

150

g

SuperValu Prosciutto

chopped

1

large

SuperValu Signature Tastes corn-fed chicken

1

-

Turnip

cut into chunks
To Serve:
12

-

SuperValu Baby Potatoes

boiled
Method
Put the chicken in a large pot and cover with cold water. Bring to the boil, then reduce the heat and simmer for 10 minutes. Lift the chicken from the boiling water onto a dish and discard the cooking liquid.
To make the stuffing, put all the ingredients in a large bowl and mix to combine. Fill the chicken cavity with the stuffing and sew up the opening with twine or strong thread to keep the stuffing in the cavity.
Put the chicken back in the pot with the vegetables and bouquet garni, cover with the cold chicken stock and season with salt and pepper. Cover the pot and bring to the boil, then reduce the heat to low and simmer, still covered, for about 1 hour 30 minutes, until the chicken is cooked through. Carefully remove the chicken to a cutting board. Cover loosely with foil to keep warm.
Meanwhile, reduce the chicken broth over a high heat for 5 minutes, then remove the pot from the heat and whisk in the crème fraîche.
Carve the chicken and serve immediately with the cooked vegetables and reduced broth along with some boiled baby potatoes. Garnish with fresh parsley and bring to the table.
Be the first to add a review.