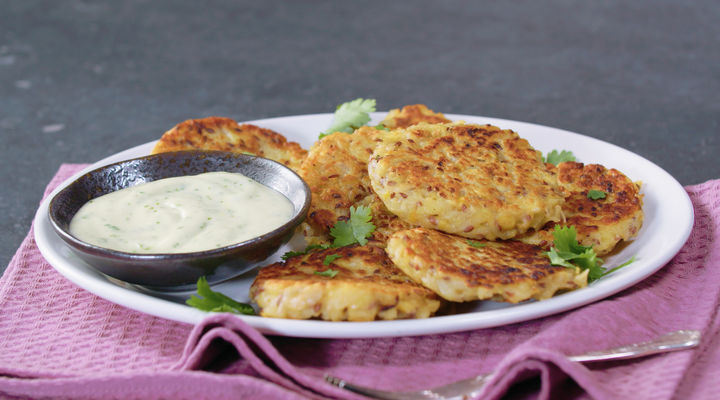 RECIPE OVERVIEW
Steve's wife Justyna is Polish so we regularly make these when in Poland (Placki Ziemniaczane) with polish potatoes but there's nothing quite like irish potatoes . We love potatoes in their many forms, but have added chickpeas to this delicious potato cake for extra protein and bite and added a zingy coriander mayo that takes it to the next level. If you're not a coriander fan simply replace with equal fresh basil.
30

g

Plain Flour

or more as needed, use GF if celiac

4

tbsp

Vegetable Oil

approximately, for frying
For the Zingy Coriander Mayo:
200

ml

Soy Milk

(Unsweetened)

200

ml

SuperValu Sunflower Oil

(try to use a neutral tasting oil)
Method
Soak the ground flax with the water and set aside for 5 minutes.
Grate the potatoes using a box grater or in a food processor with the grater attachment.
Grate the onion separately and make sure to squeeze any excess liquid out before mixing with the potato.
Drain and rinse the chickpeas, put into a bowl and mash slightly
Add all the ingredients into a large mixing bowl, and mix well using a spoon or by hand, the mixture will be slightly wet but the flour and flax will hold them together.
Time to make the mayo. Add all the mayo ingredients to a blender (except the oil) and blend until smooth, slowly add the oil, with the lid still on, while the blender is on so it creates an emulsion, this should take about 1-2 minutes. Give it a good blast at full speed for a min before finishing. You should have a lovely creamy zingy green mayo.
Shape the potato cakes batter into 8-10 cm, flat pancakes (100g each).
Heat 2-3 Tbsp of oil in large flat pan or heavy bottom frying pan on high heat, when hot, reduce the heat to medium and start to spoon the pancakes into the pan, and cook for 2-3 minutes on each side or until golden brown, cook in batches until all the batter is used. Serve with the delicious mayo!
*Hint/Tip Great as a delicious weekend brunch addition
Be the first to add a review.