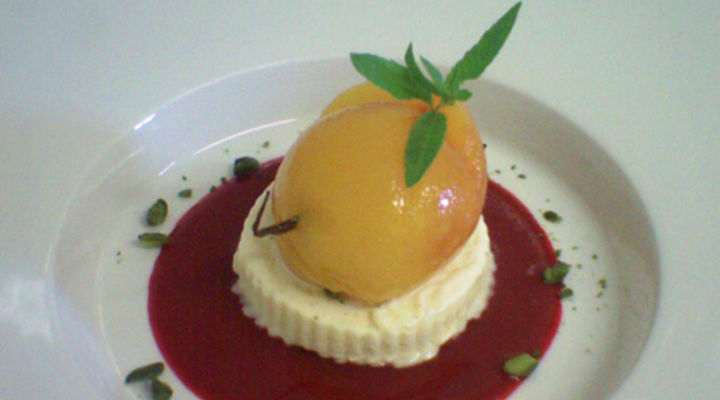 RECIPE OVERVIEW
The Peach Melba is a classic dessert invented in 1892 for Dame Melba a soprano signer.
200

g

SuperValu Blackcurrants

45

g

SuperValu Icing Sugar

6

medium

SuperValu Peach

halved, stones removed

200

g

SuperValu Vanilla Ice Cream Pint Block 568ml

1

-

SuperValu Vanilla Pod

split
Method
Although a relatively easy dessert to prepare you can further simplify it by using tinned peaches, preferably the halved variety. Your presentation style can be elaborate as you like. In my twist I have served the peach in a large plate on a disc of ice-cream.
Using a small sharp knife cut a cross on the base of each peach.
Combine the water, orange juice, sugar and vanilla pod into a large saucepan and simmer over a low heat for approximately 5 minutes until the sugar has dissolved. Add the peaches to the syrup and bring to the boil. Reduce the heat and simmer for 25 minutes until the peaches are tender. Remove from heat and set aside to cool. Use your fingers to gently peel the peaches, discard the skin.
To make the blackcurrant coulis, place the icing sugar and blackcurrants into a food processor and process until smooth, strain the puree through a sieve into a bowl.
Cut 4 slices of ice-cream, approx. 2cm each and place in the freezer until required.
To serve, spoon some blackcurrant coulis onto a large serving plate, then add the ice cream slices and top with the peaches. Serve immediately.
Alternatively, in a glass, slice the peaches and place in the base of a glass then add a scoop of ice cream and drizzle with the coulis.
Be the first to add a review.